Shanghai takes steps to cope with latest typhoon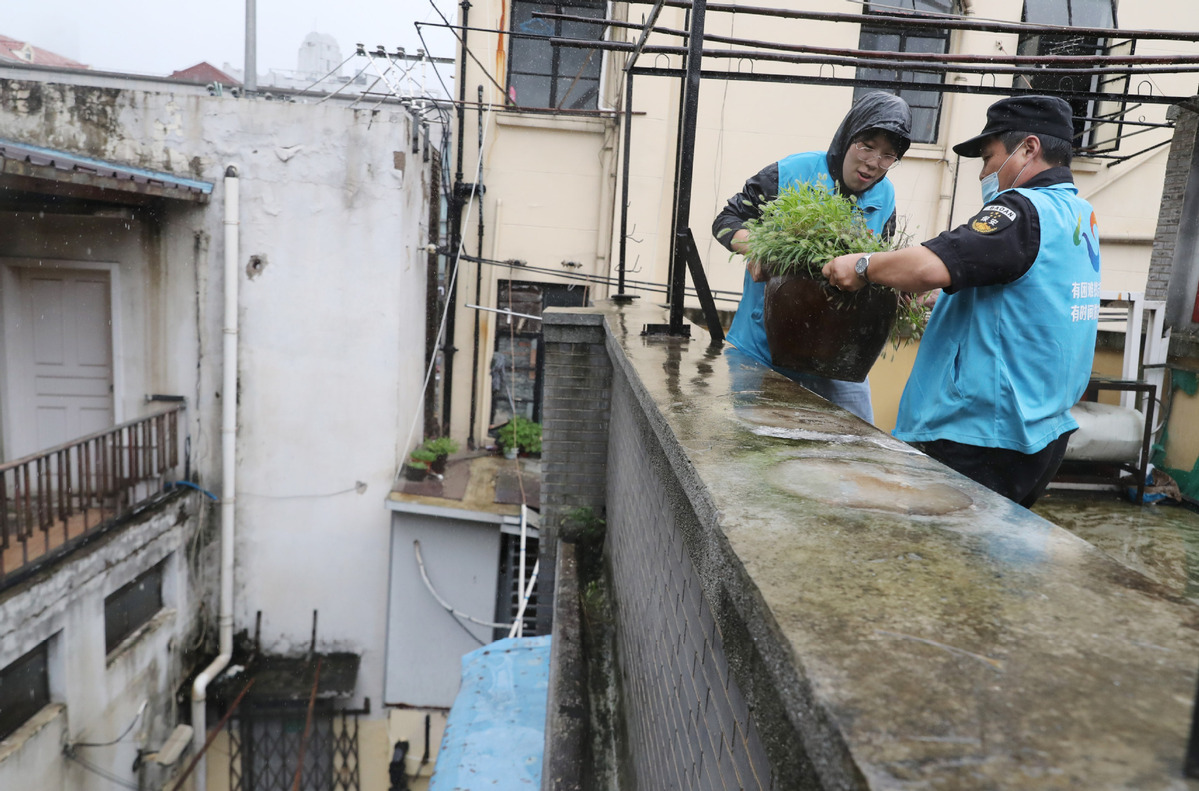 Shanghai has suspended schools, canceled flights and trains, and relocated tens of thousands of residents in coastal areas as the city government called for vigilance to cope with the influence of Typhoon Chanthu, which is expected to swirl above the ocean east of Shanghai until Wednesday.
The Shanghai Meteorological Center said that gusts up to 101 kilometers per hour will be seen in most parts of the municipality from Monday till Wednesday.
Accumulated rainfall from Monday night to Wednesday is expected to be between 120 and 180 millimeters. The heaviest rainfall in an hour could reach 30 to 50 mm.
Chanthu, the 14th typhoon this year, is forecast to swirl on the ocean 100 to 200 km east of Shanghai before moving northeast with weakened intensity on Thursday, according to the center.
Despite the unlikelihood of Chanthu making direct landfall, "the public should still stay alert to the weather as the typhoon brings heavy rain and winds," said Wu Rui, a chief service officer at the center.
The Shanghai government held a teleconference on Monday at which Shanghai Mayor Gong Zheng reiterated that ensuring the safety of people and their property is the priority.
He said government officers must put all measures for typhoon control into practice, including public transportation scheduling and congestion management, eliminate the accumulation of water in underground spaces, and ensure the safe and orderly operation of the city.
All passenger flights at Shanghai's two airports were canceled on Monday. Nearly 600 trains leaving Shanghai on Monday were canceled as well. Around 10 of the city's metro routes or sections that run above ground have been suspended since Monday afternoon.
The Shanghai education authority ordered all kindergartens and primary and middle schools to be suspended from Monday afternoon through Tuesday. Parks, outdoor scenic spots, sports stadiums and large amusement parks, including Shanghai Disney Resort and Shanghai Haichang Ocean Park, were also closed on Monday and will remain shut on Tuesday.
The city's water authority organized more than 500 workers to patrol the banks of the Huangpu River and sea walls around the clock. The electricity agency also organized hundreds of technicians to check power supplies at 843 converting stations, 2,232 distribution centers and 104 hospitals.
The Shanghai Public Security Bureau said that 50,000 police officers worked on the streets on Monday. Fifty reports of damage caused by the typhoon, including falling trees and objects falling from buildings, were received by police on Monday morning.
More than 250,000 residents in the municipality's coastal regions were relocated to safe places on Monday.
In neighboring Zhejiang province, more than 610,000 individuals had been relocated to nearly 11,000 safe sites by Monday.
The Zhejiang Meteorological Center said that extraordinary storms were expected in the cities of Ningbo, Zhoushan, Jiaxing, Huzhou and Shaoxing on Monday and Tuesday. More than 23,000 workers had been dispatched for emergency response and rescue work on Monday.