Air quality improvement starts to slow, Yinchuan most improved city overrall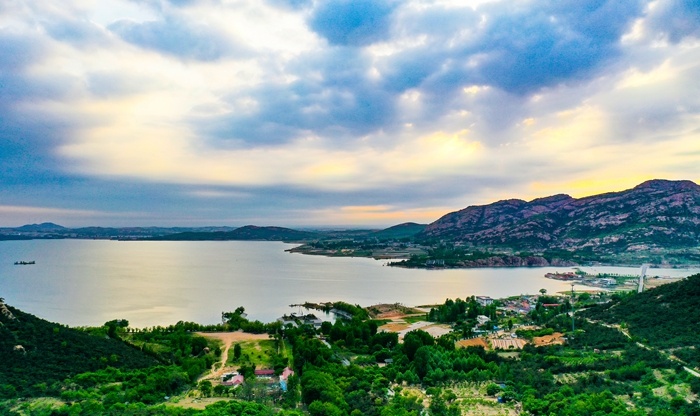 Maqi Mountain is one of the popular scenic spots in Junan county, Linyi, Shandong province. [Photo: China Daily.com.cn)
On September 28, the Beijing 2020 China Blue Sky Forum was held in China's capital, initiating extensive discussions on the targets and methods for air pollution prevention and control over the period of the 14th Five-year Plan. During the forum, Clean Air Asia (CAA) issued the latest edition of its China Air series entitled "China Air 2020: Air Pollution Prevention and Control Progress in Chinese Cities" (hereafter "China Air 2020"). The China Air Series has tracked and evaluated the air quality performance of 337 cities in China for six consecutive years, and this latest edition reveals that the air quality of Chinese cities in 2019 generally continued the trend of improvement as seen in the previous six years, but that the extent of this improvement fell significantly. More than half of the cities in China still could not entirely meet ambient air quality standards, and the problem of O3 pollution has become increasingly serious. How to set new Blue Sky goals and the methods used to achieve those goals are now the major issues at the heart of air pollution control as China approaches the 14th Five-year Plan period, with the health and welfare of the public at stake.
Air pollution control hits a snag, and PM2.5 and O3 become the biggest problems
China Air 2020 reveals that the percentage of average attainment days in 337 cities rose from 79.3% to 82% in 2019. The total number of attainment cities was 157, representing a year-on-year increase of 36 cities, but the extent of improvement reduced significantly. Backsliding was also recorded in some cities. For example, the annual mean concentration of PM2.5 in 14 cities in Liaoning Province all increased, with the same story playing out in most cities in Shandong and Shaanxi Provinces. In addition, among the six major pollutants of 337 cities in China in 2019, only the concentrations of PM10 and SO2 dropped slightly. The concentration levels of PM2.5, NO2, and CO were the same as those in 2018, while O3 continued to worsen.
Fu Lu, CAA China Director, holds that air pollution control has entered a difficult phase. "As the difficulties in air pollution control mount, more focus should be put on scientific decision-making, constant promotion for the restructuring of energy, industry and transportation, and improvement in refined and differentiated management." She continued, "It is a new challenge for policy-makers, as it tests their ability on how to adopt in-depth, sophisticated, and differentiated approaches to address the air pollution problem."
Among the major pollutants, O3 is the most noticeable issue. Since O3 data started to be released in 2013, the concentration level of O3 in China has been on the rise. In 2019, the average concentration of O3 across 337 cities saw a year-on-year increase of 6.5%. Especially noticeable was the growth in the Pearl River Delta (PRD), Yangtze River Delta (YRD), Beijing-Tianjin-Hebei (BTH) Region and their surrounding areas, which all saw annual mean concentrations exceed the limit. "Importance should be attached to the coordinated control of O3 and PM2.5 during the 14th Five-year Plan period, which means further adopting emission reduction measures to limit PM2.5 concentration while also curbing the rising trend of O3 pollution," said He Kebin, Dean and Professor at the Tsinghua University School of Environment, Academician of the Chinese Academy of Engineering, and Chairman of the China Advisory Committee of CAA.
China Air 2020 includes a further suggestion: "The coordinated control of PM2.5 and O3 requires the optimization of emission reduction measures and policy packages as supported by science and technology to ensure the 'dual control and reduction' of precursors NOx and VOCs in both the medium and long term."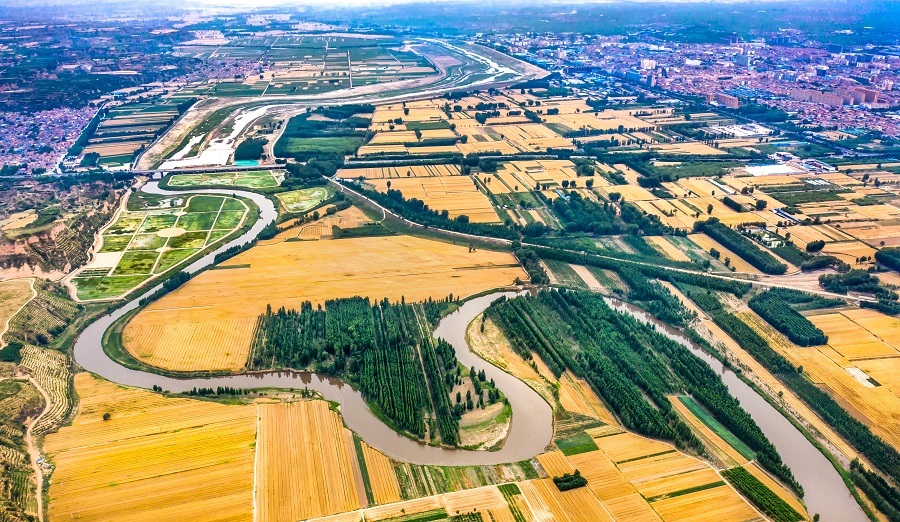 The Fenhe River, the Yellow River's second-largest tributary, meanders through farmland in North China's Shanxi province.(Photo: YUNCHENG EVENING NEWS)
Refined management gradually improves, but in-depth emission reduction remains a severe challenge
China Air 2020 affirms that the refined management of air pollution prevention and control has been promoted and seen gradual improvement. In 2019, the number of cities monitoring components of atmospheric particulate matter increased to 93. In addition to the increased number of monitoring stations, a breakthrough was also made in how they operate. Air quality monitoring networks for O3 attainment and non-attainment areas were differentiated, and indicator monitoring of non-methane hydrocarbon (NMHC) and VOCs components was likewise required to be carried out separately. These measures will provide a more solid scientific and technological foundation and deliver comprehensive analytical support for air pollution prevention and control in regions and cities.
The adoption of emerging supervision technologies has strengthened regulation of mobile sources. For example, most cities in 2019 installed remote sensing of vehicle exhaust emissions and electronic snapshots for black smoke from diesel vehicles. Shanghai, Jiangsu and other places utilized these new technologies to investigate and penalize emission violations of sea vessels. In addition, the penetration rate of on-board diagnostics (OBD) remote monitoring also increased. In some cities in key regions, more than half of heavy-duty diesel vehicles were required to install remote monitoring devices and connect with ecology and environment departments. Non-road mobile machinery was also required to install remote monitoring equipment. In addition, the launch of ultra-low emission retrofitting in the iron and steel industry along with the proposal of clear requirements on the management of fugitive VOC emissions highlight the importance placed on refined management.
The share of coal in primary energy consumption in 2019 fell to below 58%, meeting the target of the 13th Five-year Plan. However, looking at quantity, coal consumption still increased. "Although improvement and progress can be seen while policies develop and evolve, the challenges ahead cannot be ignored. The scale of coal power in China is still expanding. Further efforts are required to strengthen the control of total coal consumption and increase the proportion of clean power," said Yuan Jiahai, a professor at North China Electric Power University's Economic Management School.
Yinchuan tops the comprehensive score chart, while Linfen remains last
China Air 2020 evaluates both the effort made and effect achieved in air quality management for 168 key cities in China and, based on these results, presents the "2020 Rankings of Air Quality Management for Key Cities in China". Yinchuan came in top out of all 168 key cities on the comprehensive score. Another 13 cities also performed impressively, scoring marks higher than 100. These were Lhasa, Luzhou, Beijing, Meishan, Lanzhou, Chengdu, Shanghai, Taizhou, Chongqing, Hangzhou, Guangzhou, Neijiang and Qingdao, as ranked from highest to lowest. Three cities in the provinces of Shanxi, Henan and Anhui were placed on the "poor" list, and Linfen continued to lag behind the other cities, continuing its performance trend from the previous year.
The top ten cities in the rankings for effort score were Beijing, Guangzhou, Shanghai, Chengdu, Tianjin, Qingdao, Shenzhen, Wuhan, Hangzhou, and Zhengzhou, as ranked from first to tenth. Effort score grades a city's policies and measures and most of the top ten were either traditional or emerging first-tier cities. Another classification, effect score, gauges actual air quality improvement in cities, and Lhasa, Yinchuan, and Meishan were the top three in the rankings for effect score. Cities that saw significant improvement compared with the previous year were Beijing, Chengdu, Zhangjiakou, Datong, and Xining, among others. The ranking position of multiple cities in Shandong Province dropped largely due to rising PM2.5 concentration there.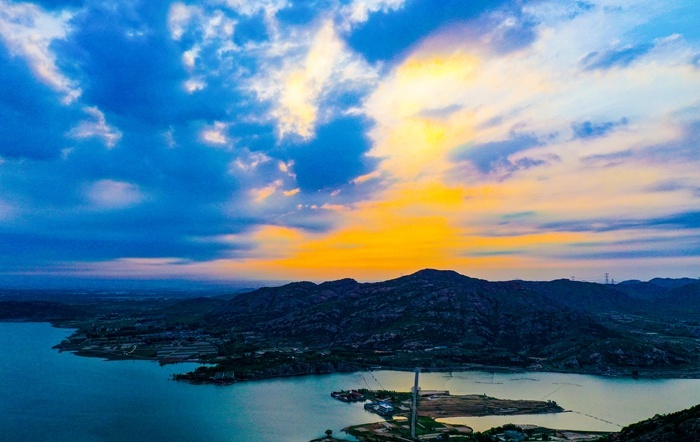 China Air 2020 proposes differentiated targets be set for these cities during the 14th Five-year Plan period, with distinct strategies outlined to achieve them. Ambitious targets can be set for "top students" in good time. In this way, it will encourage them to strive for further improvements and avoid any backsliding. Non-attainment cities may be urged to publicize their attainment plans and lay out the timetable and roadmap for attainment.
As Director Fu Lu concluded, "2020 is the sixth year in which CAA has released an annual China Air report as part of our flagship series. Throughout each of these six editions, we have made sure to present the complete picture of China's air quality, with objectivity and a scientific perspective. It's widely regarded as a great achievement that China's air quality has improved so significantly, but some problems and challenges remain evident. 2020 is the last year of the Blue Sky Defense Battle, and a new sequence of Blue Sky operations will begin in the 14th Five-year Plan period. We hope that the suggestions in China Air 2020 can help competent departments set more ambitious goals. Let's work together for public health and welfare and the high-quality development of China's economy."