Beijing swift, cuckoo could be "ambassadors" for BRI ecological cooperation: expert
BEIJING, April 11 (Xinhua) -- The Beijing swift and Beijing cuckoo should be "ambassadors" of the Belt and Road Initiative (BRI) to represent the importance of the ecological and environmental cooperation on regional and global scales, proposed Terry Townshend, a British environmental law expert and conservationist.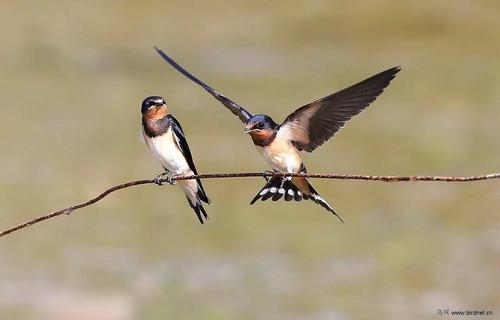 Beijing swift (File photo)
These birds, well-known and considered "ordinary" in China, migrate along the Belt and Road from East Asia to spend winters in southern Africa and fly back to Beijing in spring year after year.
"The BRI could be a wonderful opportunity to consider the migratory routes of birds and to encourage protection of these routes and key habitats," said Townshend, who founded Birding Beijing, a web portal for birdwatchers and anti-poaching volunteers in China and overseas.
Research by Birding Beijing with the China Birdwatching Society and Birdlife International found that the Beijing swift flies 26,000 km every year from Beijing to South Africa and back.
During its journey, the bird spends over 90 percent of its time in the air, according to the tracking data.
The Beijing cuckoo, in other research by Birding Beijing, surprised the world with a yearly migration route that extends 32,000 km between Beijing and Cape Town.
One Beijing cuckoo, in particular, Flappy McFlapperson, became famous among bird lovers with her amazing journeys between Beijing and Cape Town. She was affectionately titled "the bravest traveler" by the Chinese public who have been following her updates since 2016.
In May last year, Flappy's tracker signal disappeared from the monitor in Myanmar.
"Making the Beijing swift and Beijing cuckoo like Flappy ambassadors might help to highlight the plight of migratory birds among the partner countries," Townshend suggested.
He emphasized the importance and urgency of translating China's proposal of building a green Belt and Road and promoting ecological and environmental cooperation into effective plans and concrete actions.
"I would like to see robust biodiversity criteria included in all investments through the BRI, making clear that environmental protection and the restoration of diverse habitats is a key condition of Chinese investment overseas, helping to set a clear example for others to follow," said Townshend.
ECO ECONOMICS ALONG THE B&R
Besides birding, Townshend is an advisor to Washington-based Paulson Institute's conservation program in China and a collaborating researcher with the Peking University Center for Nature and Society.
One of his focuses is the indispensability and importance of the biosphere and ecological civilization for mankind's sustainable development.
"In my view, an ecological civilization should accurately and fully value nature, including habitats and the creatures that inhabit them," he said.
"A major change is required by all major countries of the world to move away from the current outdated and partial economic model that assumes infinite natural resources and considers the costs of pollution and climate change as 'externalities', towards a more holistic model that properly values nature and the services it provides," he added.
The size of China's domestic economy and its increasing influence overseas, including the BRI and through its new development bank, means it is well-placed to have a strong influence on the future direction of the global economy, Townshend said, adding that there is a huge opportunity, as well as a responsibility, for the country to identify, implement and promote a better, more complete, economic model.
"The concept of ecological civilization is a move in the right direction," he said.
National parks and reserves could be built along the green B&R, and China could share its experience and merits with partner countries and regions to enhance the protection of the integrity of the ecosphere, Townshend proposed.
By placing ecological impacts and species conservation as priorities for the planning stage, it could also be an opportunity for China to lead the BRI and global transformation towards more sustainable development, he said.