An increasing number of Chinese males are becoming interested in makeup and body care
Global Times
1514834581000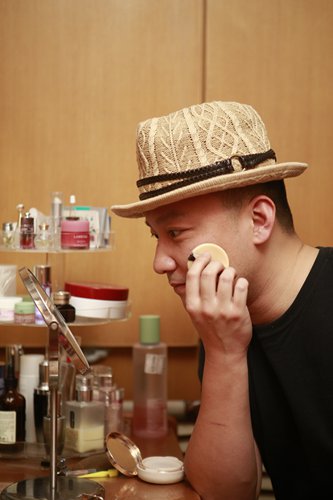 A Chinese man applying makeup. Photo: Li Hao/GT
David Zhang, a 31-year-old man working as a public relations manager in Beijing, found himself changing. He was what most would consider a typical guy who never focused on skin care, not to mention makeup. However, he spent more than 5,000 yuan ($764) on cosmetic products this year.

He threw away his generic family-size shampoo and bought the high-end brand Schwarzkopf after consulting his female friends, and he also began using facemasks.

"I have learned that facemasks have different functions such as moisturizing, whitening or anti-aging," he said. "I recently bought six packs of Japanese Utena facemasks, which focus on moisturizing and balancing my skin's oil and water elements."

In 2011, Dimitri Katsachnias, the founder of AirParis, an independent advertising agency in the fashion, fragrance, jewellery, spirits and beauty industries, said in an interview by Global Entrepreneur magazine that "men in Paris spent about 50 years moving from using cologne to accepting aftershave, while in China it may only take one year."

In most people's opinion, cosmetics products have always been something that is exclusively for women. However, during the recent Double Eleven Shopping Festival, the sales of men's cosmetics have sharply increased.

Also, the search volume for the keywords "men's makeup" increased 157 percent during the Double Eleven Shopping Festival compared with last year. Chinese men seem to be working hard to take better care of themselves.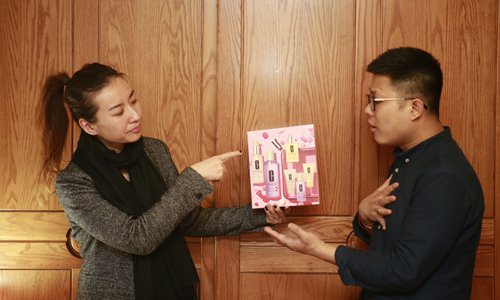 More and more Chinese women are choosing cosmetic products as gifts for their partners. Photo: Li Hao/GT
Men's makeup

In terms of skincare and makeup, Liu Changfeng, 25, spares no effort. He shapes his eyebrows daily and uses three types of foundation.

During the recent Double Twelve shopping frenzy and the Black Friday discount treats on overseas shopping websites, he bought a lot of cosmetic products such as eyebrow pencils, sunscreen, lipstick and cleansing oils and lotions.

He paid for five cross-border orders through online shopping websites and three orders for buyers from Russia, Japan and South Korea.

"I think I am a delicate man, and I see it as a good thing," he said.

Unlike Zhang who consults female friends for advice, Liu constantly researches skin and body care information and knows more than most of his female friends, who now consult him for advice on cosmetic products.

According to Koukou, a makeup artist and nail technician based in Beijing, young men, especially those born in the 1990s, are becoming a large source of income for China's cosmetic industry. He said the trend is increasingly obvious in recent years.

"About three years ago, when I was seen with foundation on my face, my eyebrows shaped and wearing lipstick, people would assume I was gay," he said.

"But now, no one finds it strange. I think China has entered an era when men's beauty matters."

According to a report by global market research institution Euromonitor in September, by 2019 Chinese men's cosmetic product consumption will have a 13.5 percent average growth rate per annum, which is far higher than the global average 5.8 percent.

A new routine

Liu Feng, a 27-year-old IT worker, got a set of Biotherm Men's skincare products as Christmas gift from his girlfriend Huang Mingming. It was the second year he got cosmetic products from her as a year-end gift.

"Last year she bought me a facial cleansing instrument made in Japan, and I did not know what it was or how to use it, even after I opened the box and took it out of the package," he said. "But after three days, I fell in love with that tiny machine; it made my face very different."

Liu Feng said his girlfriend helped him learn a lot about skincare and makeup.

Previously, he would only wash his face sometimes with soap and he had a lot of blemishes. He always thought beauty products were just for women. Until the day Huang dragged him to a cosmetic store and told him that she wanted him to become "more handsome."

"I think there was bias and even gender discrimination on social roles that men should not take care of their looks and that all their energy and effort should be invested into earning money and raising a family," he said.

"I used to think that way, but now the bias seems to have disappeared in society, and both women and men my age think that one's looks are as important as the person's ability to earn money."

Huang said she is very glad that she changed her boyfriend's bias, saying that both genders should care about their looks.

"I have been following many WeChat and Weibo accounts on men's skincare and clothing, and I found most 'rustic straight men' can be saved," she said.

"I think the most important thing is making them realize that they can be fashionable, more handsome and have better skin and shaped eyebrows."

Social acceptance

According to Koukou, the newest trend of "genderless kei" (guys with no gender) in Japan is getting more and more popular around the world, and fashionable men in China are also taking steps.

He even conducted his own live steam on how to do makeup online, and both men and women watched it.

"Men can also dye their hair, wear colorful contact lenses, get manicures and pedicures and wear makeup," he said.

"Men can start with wearing foundation and shaping their eyebrows."

He said if people look on Instagram and YouTube, they can see that the global trend for men is caring more about their looks.

He added that a man's charm should not be hidden or ruined by the pressure of raising a family and earning money.

"I think doing more skincare is a way of relaxing for busy men, especially in large cities like Beijing," he said.

However, he thinks that the men's cosmetic industry in China still has great room for improvement.

"From what I know, large-scale industries of men's cosmetic products are limited to shaving products and hair care," he said.

"Skincare and makeup products are not as widely accepted."

He suggested that China build a few fashionable figures of middle-aged or even older gentlemen to promote the image that men can be delicate and good looking at any age.

"I think Tom Ford is a great example, not only for his style but also the way he advertises that makes people want to be like him and promotes the idea that it is not bad to be a cultured and tasteful man through taking care of yourself, which makes his men's product series popular throughout world," he said.

"China needs such gentlemen and product series."

Also, he calls for more professional beauty salons for men.

"Many salons are only for women and professional skin and body care services such as shaving, facials, massages and eyebrow tinting and waxing are out of most men's reach," he said. "I hope one day I can open one in Beijing."

Huang bought the cleansing instrument on Mrporter.com, a UK-based global retail destination for men's style.

According to the website's 2016 sales report, the sales volume of men's cosmetic products increased 300 percent in 2015 compared with 2014.

"I sent the link to my boyfriend and now he has come to know about many overseas shopping websites for men's products," she said.

"He has great potential."

Liu Feng said he thinks it is a good thing to become more delicate.

"The changes are obvious, and people ask how I have become more handsome and look healthier," he said.

Li Maomao, owner of herinfilm, a public WeChat account focused on feminism, posted her opinion on men's pursuit of beauty and women's support on zhihu.com in 2016.

"It is reasonable for many to say that feminism has another victory when men's beauty and charm are 'for sale' in today's market and men are becoming more and more focused on their looks," she wrote.

She said women seem to have become more active and have stronger rights of speech in China, and it is a good thing that Chinese women have these rights and the ability to express their thoughts on relationship and esthetic opinions.

"This trend should be careful not to materialize men, and what Chinese women should pursue should be real equality, not materialization of any sex," she wrote. "We hate to view women as objects; we should not do the same to men."