Typhoon Son-Tinh crashes into Hainan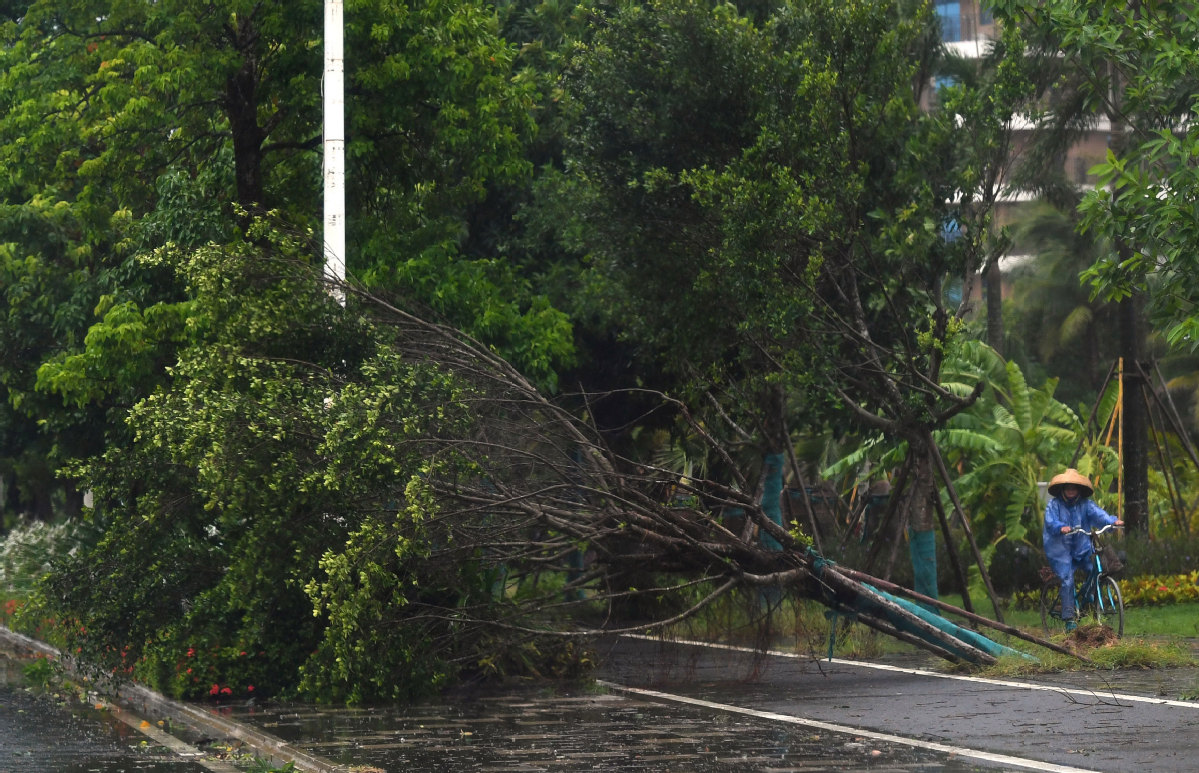 A bicyclist passes a fallen tree in Qionghai, Hainan province, on Wednesday. Typhoon Son-Tinh made landfall on the island province at around 4:50 am that day. [YANG GUANYU/XINHUA]
Typhoon Son-Tinh, the ninth of the year, made landfall on Hainan Island early on Wednesday, bringing torrential rain and high winds, according to the Hainan meteorological observatory.
The typhoon landed at Wanning on the southeastern coast of the island at around 4:50 am on Wednesday, packing winds of up to 82.8 kilometers per hour. It was accompanied by rain and wind that affected parts of Guangdong and Fujian provinces.
Son-Tinh is moving westward at 30 km/h and was expected to reach the southern sea areas of the Beibu Gulf on Wednesday afternoon and land in northern Vietnam on Wednesday night.
More heavy weather is expected until 8 am on Thursday in the western coastal areas of Guangdong, Guangxi and most parts of Hainan province, with some places on the island likely to receive rainfall of up to 80 millimeters per hour, the local observatory said.
The Yuehai Railway and Hainan Maritime Safety Administration confirmed that ferries on the Qiongzhou Strait, which connects Hainan with Guangdong, and trains running between the cities of Haikou, Beijing, Shanghai and Harbin, were halted on Tuesday. Services had been expected to resume at 4 pm on Wednesday.
Passengers who bought tickets for the affected services can change their dates or apply for refunds within 30 days, local railway authorities said.
High-speed train services on Hainan Island were also suspended on Wednesday morning but resumed at 12:23 pm.
By Tuesday afternoon, a total of 23,724 fishing boats had been called back to harbors around the island, according to official reports.