China's largest tropical rainforest grows in area
HAIKOU -- China's largest tropical rainforest on the southern island of Hainan has increased by about 200,000 hectares in the past 20 years, thanks to enhanced protection and anti-poverty campaigns that wean villagers off illegal lumbering and burning for hunting.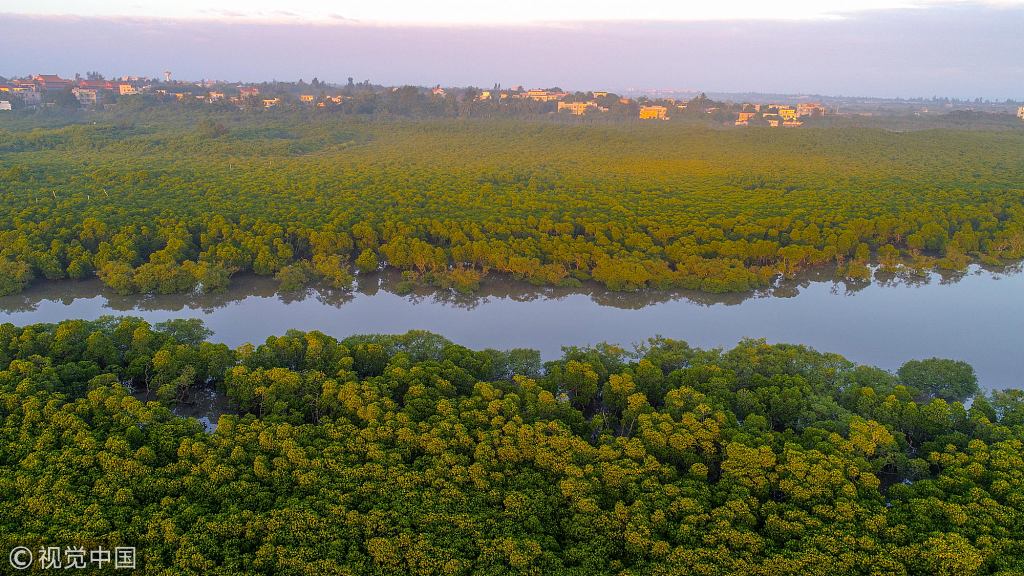 A mangrove forest natural preserve in Haikou, Hainan province. (Photo: VCG)
The forestry bureau of Hainan said the province's tropical rainforest areas reached 659,300 hectares in 2018, and the forest coverage rate in the protected area rose from less than 90 percent to 98.16 percent in the past two decades.
Hainan boasts the country's largest expanse of primeval rainforest, which is home to many rare and endangered species including Hainan gibbons, known as the world's rarest primates.
But far from the equator, Hainan's rainforest is more vulnerable to man-made and natural disasters. In the 20th century, excessive lumbering and fires by hunters took a heavy toll on the forests.
In the 1990s, Hainan issued complete bans on rainforest lumbering, and massive afforestation efforts have assisted with the forest's natural restoration.
Officials said the rainforest preservation also benefited from the local poverty reduction campaign, which introduced more profitable and eco-friendly farming and bee-keeping in impoverished areas to replace destructive lumbering and hunting.
"We helped locals build up new industries like passion fruit and okra farming and trained some villagers as forest rangers," said Wang Ce, an official at Yinpo village that was relocated out of the Yingge Natural Reserve in 2017.
Earlier this year, Hainan announced the plan to establish a national tropical rain forest park by 2020 to put one seventh of the island's land areas under more comprehensive protection.
"The construction of the tropical rainforest national park will bring in more tourists, and we're eyeing eco-tourism to improve the villagers' incomes," said Wang.