Consumer confidence index hits record high in Q3
People's Daily app
1511361335000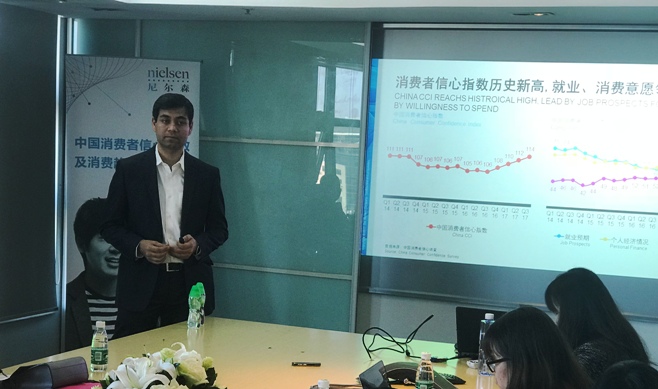 Vishal Bali, Managing Director of Nielsen China, delivers a speech on Chinese Consumer Confidence Index & Consumption Trends in Beijing on November 22. (Photo: People's Daily)
Beijing (People's Daily app) - Chinese consumers' willingness to spend ran unprecedentedly high and continued to show optimism about personal income growth and employment prospects thanks to a stable economy, a study said on Wednesday.
China's Consumer Confidence Index (CCI) reached historical high to 114 points in the third quarter of 2017, up two points from the last quarter, according to the latest study from Nielsen, a global performance management company. More significantly, Chinese CCI, rising from 106 points in the fourth quarter of 2016 to 114 points in the same period this year, witnessed growth for a fourth consecutive quarter.
China's surging CCI can be attributed to three drivers namely consumers' optimistic perceptions of local job prospects, personal finances and immediate spending intentions, Vishal Bali, Managing Director of Nielsen China, told People's Daily app.
Consumer confidence levels above and below a baseline of 100 indicate degrees of optimism and pessimism to the three factors above, respectively.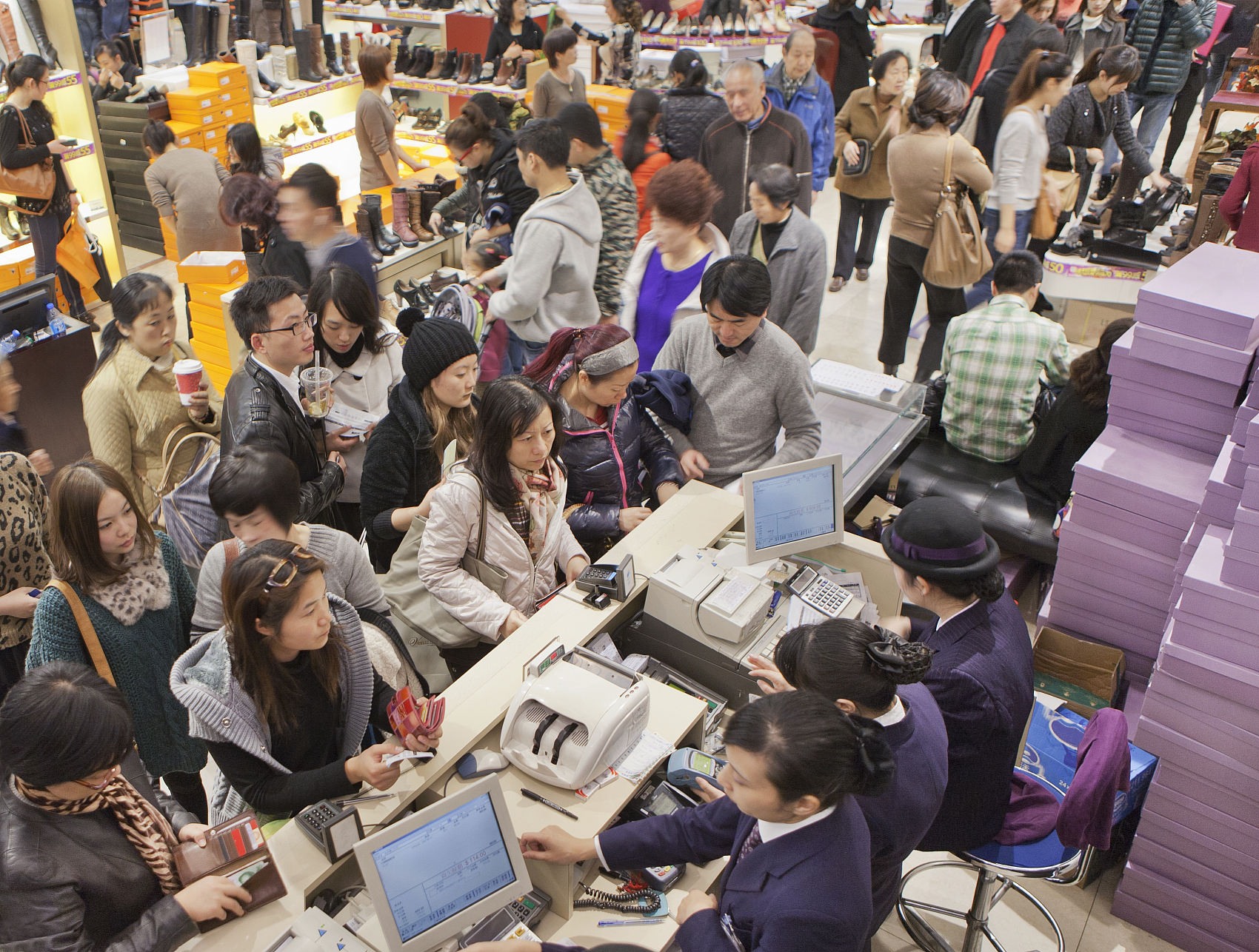 Retail staff serve customers at sales counter. Photo: VCG
The Nielsen study showed that job prospects jumped from 68 in the previous quarter to 72 in the third quarter, an increase of four points. Consumers' willingness to spend ran unprecedentedly high, rising from 56 in the previous quarter to 58, the highest level since 2014. In the same time, personal finance also rose one point from the last quarter to 70.
Among the three factors, job prospect is the main driving force for this quarter's CCI increase, said Bali. He further explained reasons behind the sharp increase of job prospect index.
Firstly, the country's GDP growth stood at 6.8 percent in the July-September period, according to China's National Bureau of Statistics (NBS). For nine consecutive months, the economy's growth rate has been in the range of 6.7 percent to 6.9 percent, which laid a solid foundation to stabilize employment.
Secondly, Chinese government is pushing for reforms to streamline administrative process, such as cutting multiple certificates to one. As such reform advances, mass entrepreneurship and innovation has been burgeoning and market vitality has been stimulated. Data from NBS shows that the daily average of newly registered enterprises reached 16,500, compared with 15,000 in 2016.
Meanwhile, the effect of economic restructuring has become increasingly evident. China's economy continued to shift into a service-driven mode, adding new jobs and substantially increasing its employment rate.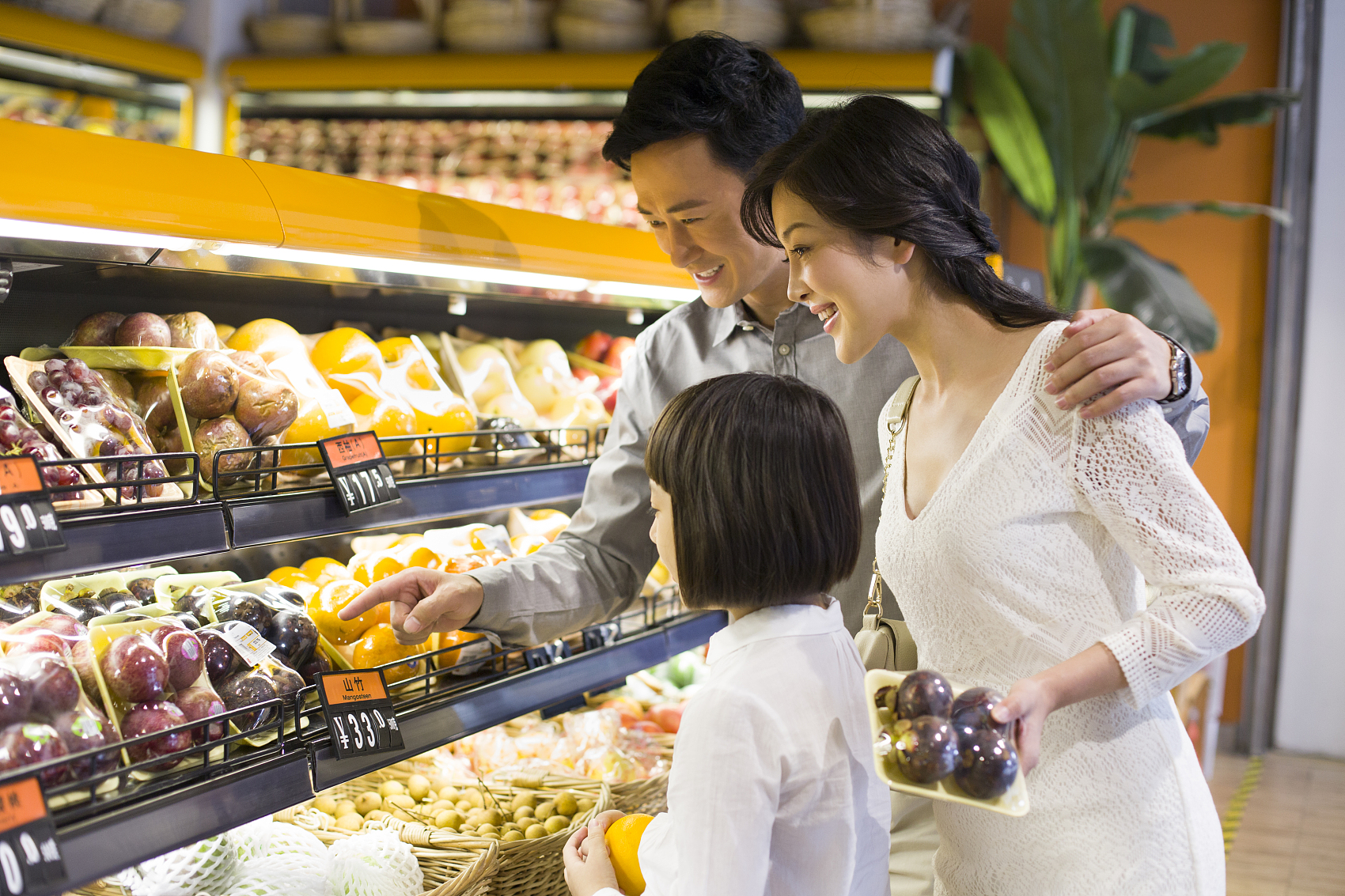 A family shops in the supermarket. Photo: VCG
China's consuming optimization has entered a stage where all residents get involved in. Nielsen finds that beyond enjoyment, consumers are seeking for healthy lifestyle. For example, consumers pay more attention to health prevention, especially health food and their health concept has expanded to personal care and household cleansing products.
"As life quality improves, consumers' demand for health is being felt sharply. It will activate the health service market. The report of the 19th CPC National Congress clearly puts forward to implement 'Healthy China Strategy,' which hails the conception as a national strategy," said Bali. "It is bound to become a new driving force to upgrade consumption."
As health spending continues to grow, doing sports is a main way for people to achieve their healthy demands, as well as a new driving force for consumption.
The Nielsen study finds that sport options vary in different tier cities. For consumers in top-tier cities, exercising is socializing, while those living in lower-tier cities prefer outdoor activities. People living in rural areas have limited options.