Tibetans mark anniversary, reflect on beneficial changes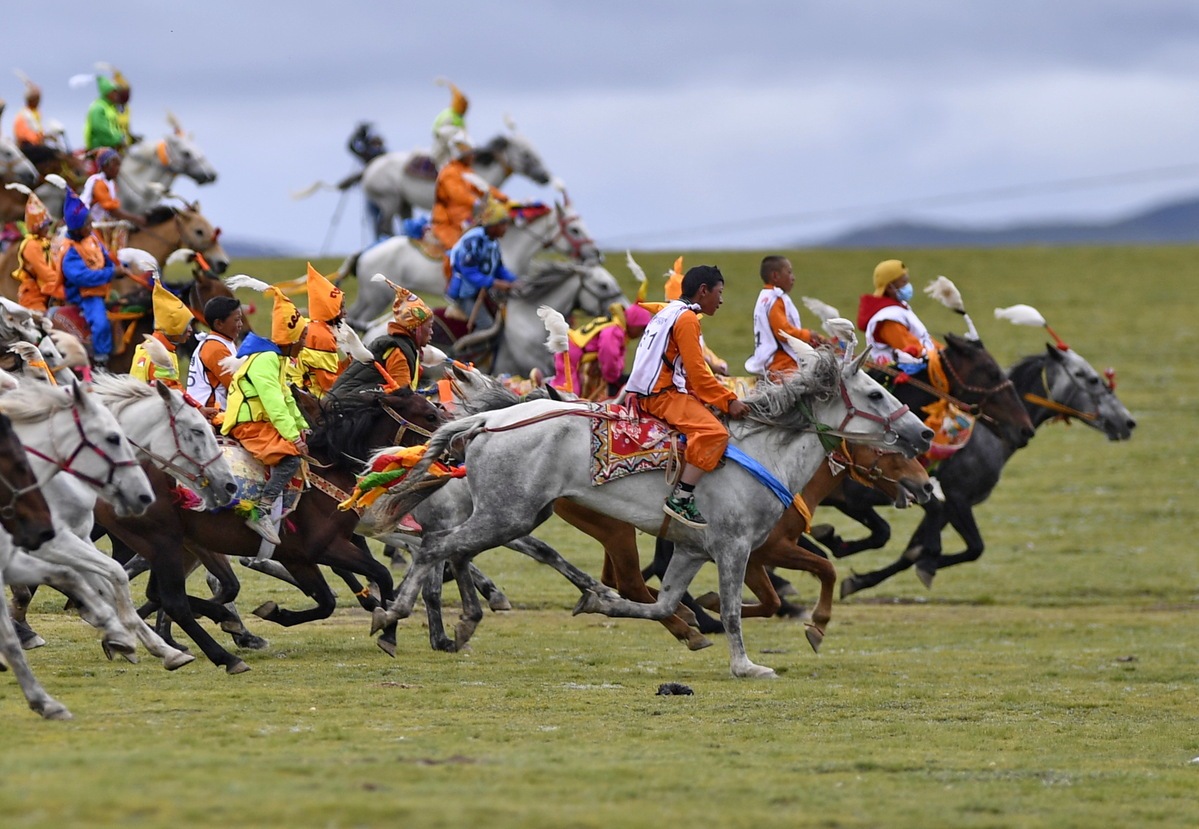 Young riders compete in a traditional horse racing event in Nagchu, Tibet autonomous region, on Aug 14. (Photo: Xinhua)
This month's celebration of the 55th anniversary of the founding of the Tibet autonomous region has a special meaning for Nyima Dondrub.
"Thanks to the official founding of the region in 1965, I had the opportunity to become a Party secretary, having been a herdsman," said the 60-year-old, who spoke at a Friday gathering of 180 people in the capital, Lhasa, from all walks of life to celebrate the anniversary.
Born into a family of serfs, the lowest class under the old social system, he still remembers a childhood that included a hard life with few ways to make a living and ramshackle housing.
Nyima Dondrub is now the Party secretary of Chamgug village in Gerze county's Oma township, which is in Ngari prefecture.
"I feel lucky that I live under the leadership of the Communist Party of China, and I feel happy with my life," he said.
For centuries, Tibet was ruled by a feudal theocracy. Millions of serfs were subjected to cruel exploitation and oppression until democratic reform in 1959. In those days, many people led a miserable life that did not include basic human rights.
He said the region's residents have benefited from new policies implemented over the past 55 years, which have brought the chance for a better life.
Dramatic changes have come to living standards in his village over the past five decades, said Nyima Dondrub. "All the families in the village are connected by paved roads, have telecommunications and television services and are provided with better education, health services and running water."
Average life expectancy had risen to over 70 years by the end of 2019 from 35.5 years in the 1950s, the region's health authorities said.
The infant mortality rate declined from 430 per 1,000 in the 1950s to 10.38 per 1,000 by the end of 2017, with more than 90 percent of deliveries occurring at hospitals.
The region's GDP has soared from 174 million yuan in 1959 to more 160 billion yuan ($23.4 billion) in 2019. Annual disposable income per capita in Tibet reached 19,501 yuan in 2019.
Apart from improved overall health, residents have had increasing opportunities to earn higher incomes and enjoy a better life.
Tsering Yangzom, a Tibetan villager from Nyingchi also spoke highly of the sea change in people's quality of life.
Born into a poor family, she had to drop out of school after finishing junior middle school. Her home village is Tsojuk, near Baksum Tso Lake, now one of Tibet's most famous tourist sites.
In 2015, Tsering Yangzom began working as a tour guide, benefiting from the blooming tourist trade in her hometown. Her average monthly salary has grown to 20,000 yuan.
"My husband also quit herding animals and began working at the tourist site as a sanitation worker in 2015, and now we can better support our family by buying what we need," the 25-year-old said.
Other villagers are also now making a living from tourism. But such inspiring stories have not been unusual in the region over the past 55 years.
Since the founding of the region in September 1965, people in Tibet have benefited from solid progress in education and significant progress in balancing tourism development and the restoration of biodiversity.
"We had 49 people in 13 impoverished families in our village in 2017, and they have all escaped poverty now," Nyima Dondrub said.
He said that in 2019, the average annual per capita disposable income of 288 people in 71 households in the village reached 19,770 yuan. It is not unusual for his fellow villagers to own cars, motorcycles, TVs, phones, computers, refrigerators and other electronic home appliances.
"We enjoy living in a good society today. We know what we have today is not easily earned and therefore, we want to cherish happy times," he said.