Authorities alerted to disreputable Chinese hospitals trying to open in poor countries
Global Times
1513805192000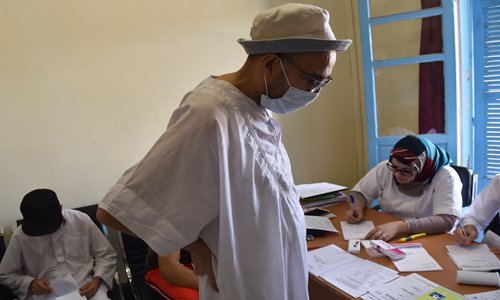 An Algerian patient who had a kidney transplant talks to medical staff at Batna's University Hospital, on July 26, 2017. Photo: VCG

Experts say medical authorities in Africa and Asia should be on the lookout for a notorious chain of Chinese private hospitals that have been accused of malpractice that have allegedly caused the deaths of a number of patients.
The most recent warnings comes from Sina Weibo user "Choumouguse," who wrote that she had been told by friends that hospitals from Putian in Fujian Province had moved overseas and set up clinics in Africa.
Putian is home to a number of hospital chains that have been widely criticized in Chinese media for offering unproven, unethical and ineffective costly treatments to seriously ill patients. Reports have shown that some staff at the hospitals had bogus medical credentials.
The Weibo user's post, which has been shared more than 1,300 times on social media platforms, has sparked concern that the illegal medical business was seeking to expand to Africa and Asia, following an intense crackdown on its predatory practices in China.
The Global Times contacted a number of Chinese medical professional with connections to Africa or knowledge of the malpractice of Putian hospitals. None were able to verify that the disreputable Chinese private hospital chain had slipped into Africa.
While the Weibo user's secondhand allegations could not be verified as of press time, many of the Chinese doctors the Global Times talked to urged African medical departments to crack down on illegal medical businesses. They suggest the continent, troubled by disease and a weak medical treatment infrastructure is a perfect target for unscrupulous medical practice.
Another Netizen posted on the reddit-style forum chouti.com, that the notorious private hospitals from Putian have set up facilities in Vietnam, Laos and Thailand where regulations are more lax and medical resources in short supply. The post concluded that that it's only a matter of time before such hospitals open in Africa.
China's governmental medical institutions have a long history of providing professional medical aid to many countries in Africa. The People's Daily reported in April that China has sent more than 20,000 medical personnel to more than 50 Africa countries over the past 54 years.
Li Zhibiao, a research fellow at the Institute of West Asian and African Studies of the Chinese Academy of Social Sciences, told the Global Times on Tuesday that most private Chinese clinics in Africa are run by doctors dispatched years ago to the continent as members of national medical teams.
A doctor surnamed Wu, who has run a clinic in Lome, the capital of the West African country Togo for more than 20 years, told the Global Times that an increasing number of Chinese doctors, mostly providing traditional Chinese therapies, have set up practices in Togo as the country is friendly to Chinese doctors and traditional Chinese medicine.
There have been reports of bogus medical practices on the continent's health and medical market, suggesting some countries' criteria for opening these types of businesses are not difficult to meet. A group of bogus doctors were found guilty of illegally performing abortions and were sentenced to six months in prison by a local court in South Africa in July, The Citizen, a South Africa-based newspaper reported.
Fake medical certificates are not difficult to obtain in Cape Town, according to an October investigative report from the local GroundUp news agency. It was able to contact three different people who offered to sell bogus medical credentials. One told the news agency that selling fake medical certificates is "big business" and he had been doing it for many years.
Li said that while many African countries do have high standards for their health and medical industry, they should enhance the implementation of local laws and regulations to stop the illegal business coming from foreign countries. African countries should also actively cooperate with foreign countries' customs and public security departments to prevent unqualified medicines and medical personnel from entering their country, Li added.