Integration strategy sees more top military tech used in civilian life
Global Times
1521664543000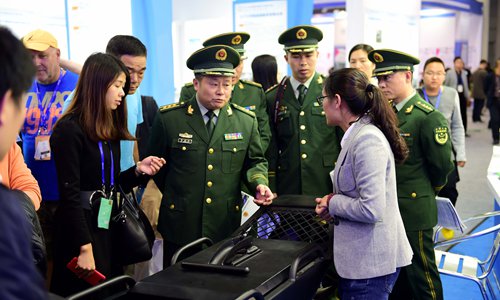 Military personnel attend a military-civilian integration exhibition in Shenzhen in November 2017 (Photo: Global Times)
As China continues to implement its military-civilian integration strategy, an increasing number of military enterprises have been applying their cutting-edge technologies to manufacturing civilian products, making previously mysterious military technology a part of people's daily lives.
One example of this is the 55-kilometer Hong Kong-Zhuhai-Macao Bridge situated in the Lingdingyang waters of the Pearl River Estuary.
Thanks to 158 bridge bearings manufactured in a military factory in central China, the world's longest sea bridge sits majestically above the bustling waters of southern China.
The bearings, or "joints" that connect the pier and bridge body, are crucial to the quality and lifespan of the bridge.
The supplier of the joints, Luoyang Sunrui Special Equipment Co., is a subsidiary of the Luoyang Ship Material Research Institute of China Shipbuilding Industry Corporation, which provides technological support for Chinese naval warships.
Wide applications
Many technologies developed by the institute have been applied to several national key projects, such as the record-breaking deep-sea manned submersible Jiaolong, China's first aircraft carrier Liaoning, and the country's first manned space docking between the Shenzhou-9 spacecraft and the country's first space lab, Tiangong-1.
Due to deeper military-civilian integration, these technologies are now widely used in civilian areas, including major infrastructure projects, wind turbine blades, and affordable medical apparatus and instruments such as coronary stents.
"Over 90 percent of our production value now comes from civilian goods," said Wang Guoyu, secretary of the institute's Party committee. Haiying Special Materials Company uses one-millimeter-thick nanometer aerogel as a thermal insulation material for its winter boots. The material was used on the gas pipelines of Long March-5 rockets and microthermal lockers of the Tianzhou-1 cargo spacecraft.
China Aerospace Science and Technology Corporation (CASIC) has partnered with the National Library of China and National Ancient Books Protection Center to apply aeronautical technologies to the protection of ancient books.
According to Gao Hongwei, chairman of CASIC, more than 2,000 aerospace technologies have been applied to various sectors of the national economy, and have made tremendous contributions to social development.
More measures
According to the State Administration of Science, Technology and Industry for National Defense in December, 70 percent of products manufactured by defense suppliers in China are for civilian use.
"China's defense industry has accumulated a lot of advanced technologies and high-end talent over the decades, but many of its achievements have not been adopted in civilian areas yet," said Zhang Liangrui from the administration. "China will introduce more measures to promote military-civilian integration to contribute to national industrial upgrading and economic development."
In 2017 China unveiled a five-year plan on promoting integrated military and civilian development in the science and technology sector.
A coordinated military-civilian innovation system for the sector should be in place by 2020, in addition to breakthroughs in mechanisms and exploring cost-efficient patterns, the document said.
It called for the sharing of sci-tech innovation resources and research platforms between military and civilian entities, as well as bidirectional transformation of their achievements.