Injured wild panda captured by infrared camera in NW China
LANZHOU, April 20 (Xinhua) -- A video footage of a wild giant panda walking in the snow with its front paw injured was captured by an infrared camera in a nature reserve in northwest China's Gansu Province, according to the reserve administration.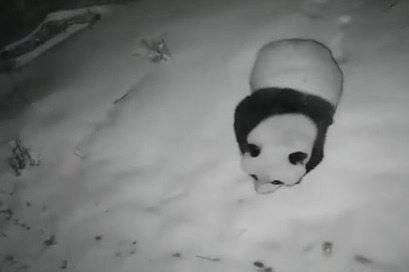 Photo: China Daily
The monitoring system of the giant panda's habitat in the Baishujiang National Nature Reserve in Gansu shows the giant panda limping through the thick snow with an injured front paw.
The video, 28 seconds long, was filmed on April 6, with the giant panda remaining in front of the camera for more than 10 seconds before leaving a trail of footprints in the snow.
He Liwen, director of the giant panda office at the reserve administration, said judging from the video, it was an adult panda.
"It's hard to tell the sex of a panda from the pictures, but generally speaking, males fight, females don't, and most of the time it's the males that get hurt," he said.
Wild giant pandas are "lone rangers" in the forest, especially in estrus in the spring season, he said, adding that a fight over a mate most likely injured the giant panda.
"The video monitoring system has been in operation for less than half a year, and we have taken dozens of precious pictures of wild giant pandas," He said.
There are more than 130 wild giant pandas in Gansu, 110 of which live in the reserve. The population has kept rising in recent years, with a steady progress in the protection work and the continuous improvement of the ecological environment. Enditem