Civil aviation covers 31.3 pct of passenger turnover in China's traffic system
BEIJING, April 22 (Xinhua) -- Civil aviation transport has contributed 31.3 percent of passenger turnover in China's comprehensive traffic system in 2018, according to the latest report from civil aviation authorities.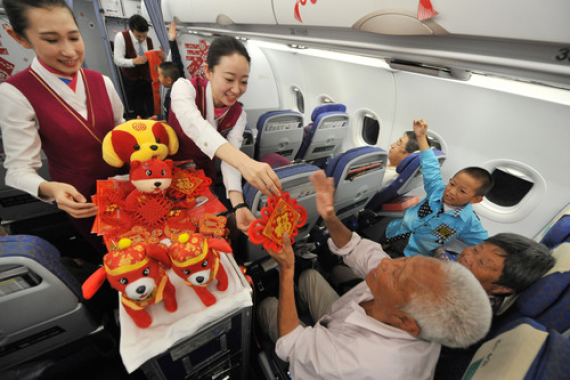 Stewardesses send festival gifts to passengers on the flight from Haikou to Shenyang, China, Feb. 13, 2018. (Photo: Xinhua)
The figure was 3 percentage points more than that in 2017, said the mid-term evaluation report of the civil aviation development in the 13th Five-Year Plan released by the Civil Aviation Administration of China (CAAC).
By the end of 2018, China had a total of 235 certified transport airports, which could extend to more than 90 percent of the country's prefecture-level cities, the CAAC report said.
In 2018, China's civil aviation industry handled 610 million air passengers.
China is now the world's second-largest civil aviation market. It is expected to become the largest by the mid-2020s, according to the latest forecasts by the International Air Transport Association (IATA).