Renewed US hype of 'China's nuclear expansion' filled with hegemonic intentions
Global Times
1649199843000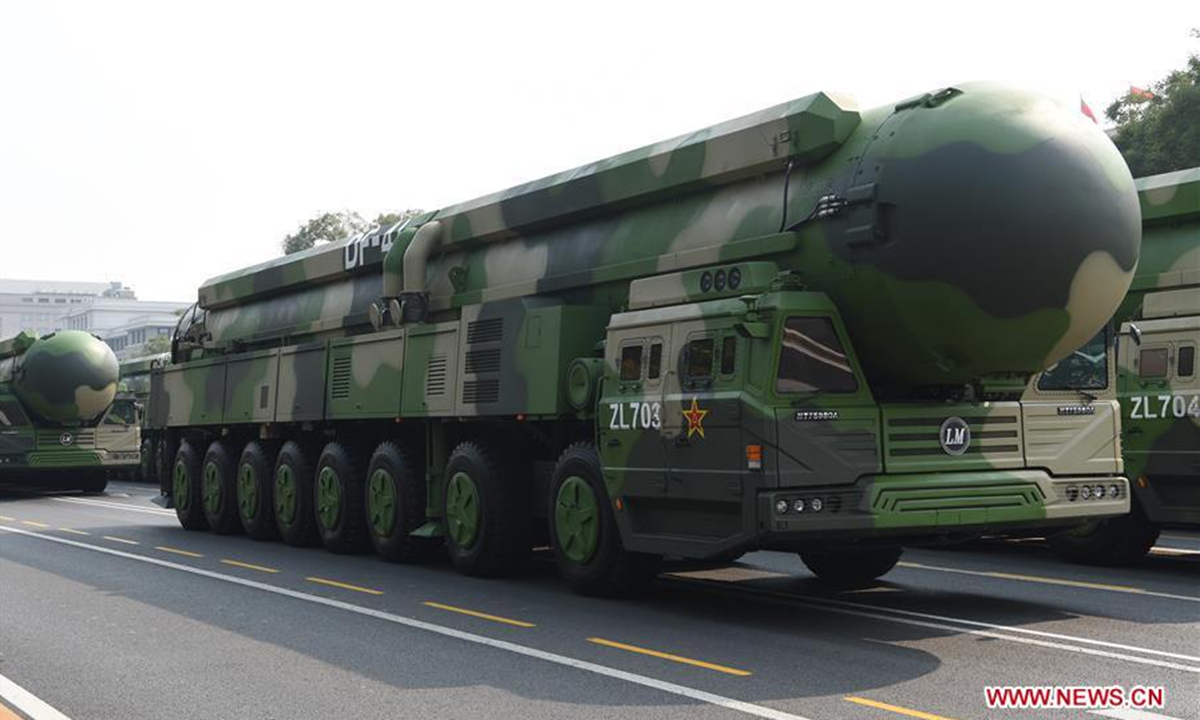 A top US admiral again hyped China's "expansion of strategic and nuclear arsenal" on Tuesday, making irresponsible and speculative remarks on the country's hypersonic weapons tests and construction of missile silos. Chinese experts said that the hype is nothing new and that the US is aiming to maintain its global military hegemony and making excuses for its record-breaking defense budget.

China's "breathtaking expansion" of its strategic and nuclear arsenal is a quickly escalating risk for the US, Admiral Charles Richard, the head of US Strategic Command, wrote in testimony posted on the website of the House Defense Appropriations subcommittee to be presented to lawmakers at a closed-door hearing on Tuesday, Bloomberg reported.
China's first test of an intercontinental ballistic missile-launched hypersonic glide vehicle last July is a "technological achievement with serious implications for strategic stability," as the hypersonic vehicle flew 40,000 kilometers for more than 100 minutes, marking "the greatest distance and longest flight time of any land attack weapon system of any nation to date," Richard wrote in the testimony.
The US admiral again claimed that China has boosted the construction of nuclear missile fields in western China, each with about 120 missile silos, allowing the country to have "robust" ballistic missiles that would be capable of reaching the continental US.
The US and Western media have been hyping both the alleged hypersonic missile test and silos since last year.
In response to the claimed test of the hypersonic missile, Chinese Foreign Ministry spokesperson Zhao Lijian said in October 2021 that it was a routine test of a spacecraft to verify the technology of its reusability, highlighting that it was not missile.
About the silos, Fu Cong, Director General of the Arms Control Department at the Chinese Foreign Ministry, said in a media briefing in January that he does not think it is a serious business to try to calculate the size of the Chinese nuclear forces based on those satellite pictures cited by Western media.
China has no plans to drastically expand its nuclear arsenal but will continue to modernize it under the changing security environment, Fu said.
The US military is again hyping this issue because it wants to build a new strategic nuclear triad force and needs funding from the US Congress. For that reason, it needs to build a threat, Song Zhongping, a Chinese military expert and TV commentator, told the Global Times on Tuesday.
The White House already asked Congress for more than $800 billion for its national defense budget in 2023, with more allocation on nuclear weapons compared with last year, Song said, noting that the US lags behind China and Russia in hypersonic weapons technologies, so it wants to hype their development to justify a stronger nuclear force development.
China's development of nuclear weapons aims to safeguard its national sovereignty, security and territorial integrity, and China's development of this technology is justified, Song said.
The US successfully tested a hypersonic missile in mid-March but kept it quiet for two weeks to avoid escalating tensions with Russia, CNN reported on Tuesday.
It is the US that has been risking a nuclear arms race, Song warned.