Xi meets Vietnamese PM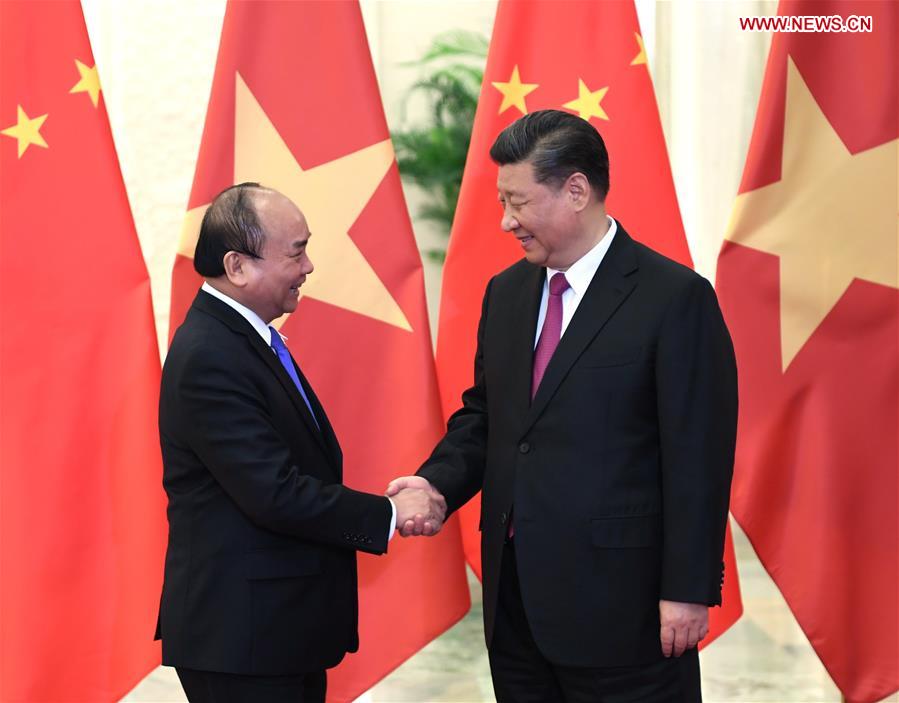 Chinese President Xi Jinping (R) meets with Vietnamese Prime Minister Nguyen Xuan Phuc, who is here to attend the Second Belt and Road Forum for International Cooperation, at the Great Hall of the People in Beijing, capital of China, April 25, 2019. (Xinhua/Yin Bogu)
BEIJING, April 25 (Xinhua) --Chinese President Xi Jinping on Thursday met with Vietnamese Prime Minister Nguyen Xuan Phuc, who is here to attend the Second Belt and Road Forum for International Cooperation.
Noting that China and Vietnam are a community of shared future with strategic significance, Xi called for joint efforts in writing a new chapter in developing the comprehensive strategic cooperation between the two countries.
Both sides should leverage the role of the exchange mechanism between the two ruling parties to learn from each other on party discipline and state governance, Xi said, adding that the two sides should also focus on the major task of aligning the Belt and Road Initiative (BRI) with Vietnam's "Two Corridors and One Economic Circle" plan, and advance cooperation in key areas including infrastructure, production capacity and cross-border economic cooperation zones.
Xi called for broader people-to-people exchanges to pass on the friendship between the two countries to future generations, as well as actions from both sides to safeguard maritime peace and stability.
Nguyen Xuan Phuc said Vietnam and China are fraternal neighbors, and share the same Socialist cause and common development goals, adding that the Vietnamese side is ready to build greater synergy between the BRI and Vietnam's development plan.
Vietnam is willing to follow the consensus between the two sides, and work with China to properly manage the maritime issues, so as not to affect the overall development of the bilateral ties, he said.