Business leaders see huge trade potential in SCO
There's great potential for trade and economic cooperation between member states of the Shanghai Cooperation Organization, said experts at the SCO Business Forum in Beijing.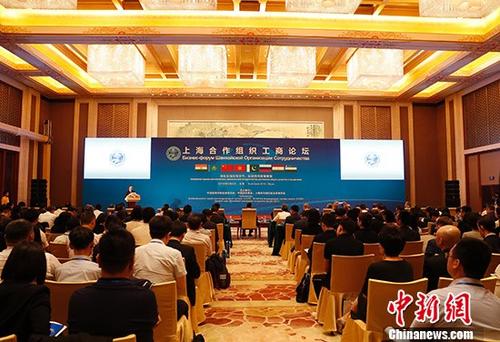 Business Forum of Shanghai Cooperation Organization is held in Beijing, June 6, 2018. (Photo: China News Service)
Business leaders and representatives from Russia, India, Pakistan, Kazakhstan, and Uzbekistan discussed new opportunities and models of cooperation in the areas of logistics, energy, and tourism at the forum, organized by the China Council for the Promotion of International Trade (CCPIT).
Vladimir Padalko, vice president of the Chamber of Commerce and Industry of the Russian Federation, said Russia has made positive progress with all SCO member states in terms of trade cooperation, with the trade volume last year at $120 billion and growth rate at about 30 percent.
He also said the economy was not the main target when the SCO was first established. After India and Pakistan became SCO members, the organization provided huge potential in global trade."We must seize the opportunity," he added.
Ikramov Adkham Ilkhamovich, chairman of the Chamber of Commerce and Industry of the Republic of Uzbekistan, said SCO member states can explore cooperation in tourism, agriculture, education, and culture as many countries support China's "Belt and Road" initiative.
Chen Yuxiang, vice president of JinkoSolar Holding, said the new energy industry will have great potential for development in Central Asia with rural areas in Kazakhstan well suited for the development of photovoltaic power generation.
SCO member states will be able to revitalize the region through strengthening cooperation in infrastructure interconnection, said Zhao Jinhua, chief economist of China Railway Construction.
Chairman of India's National Committee for Enterprise called for further efforts to improve the business, financial and legal environment and increase interconnection of infrastructure among SCO member states.
Chen Zhou, vice president of the CCPIT, also made suggestions on further deepening economic and trade cooperation between parties.
Chen said all member states, industrialist committees, and business associations should actively promote the "Belt and Road" initiative, complementing each other to create new technologies, industries, and business models.