Unrest in Hong Kong has silenced the music
China Daily Global
1578880942000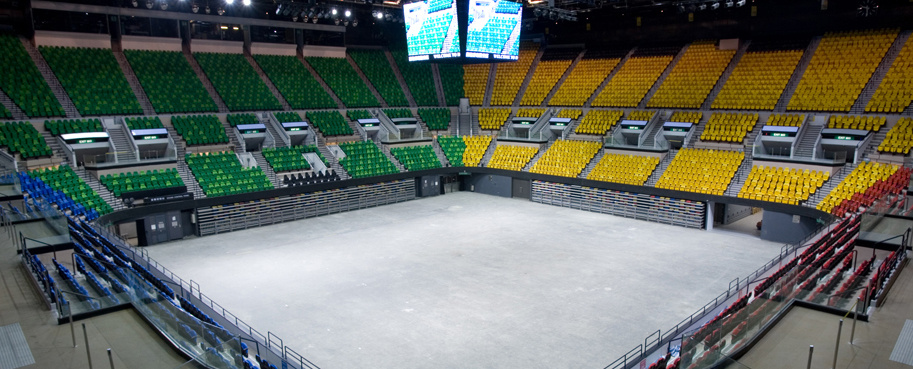 An interior view of the Hong Kong Coliseum. (Photo: Official website of the Hong Kong Leisure and Cultural Services Department)
When Sunny, a die-hard fan of Cantonese pop star Eason Chan Yick-shun, caught wind of the cancellation of Chan's concert in Hong Kong two months ago, she was upset and disappointed, although somewhat relieved as well.
Citing safety and traffic concerns due to ongoing social unrest in the city, concert organizer ESL on Nov 21 called off all the singer's 25 shows, which were scheduled to run from Dec 9 to Jan 7 at the Hong Kong Coliseum. According to a report in The Standard newspaper, the loss of the overall cancellation was estimated at nearly HK$180 million ($23.2 million).
Chan was not the only one affected. Weeks earlier, two other singers-Hins Cheung and Cheer Chen-either postponed or canceled their scheduled shows at the Hong Kong Coliseum.
The wave of cancellations has come as Hong Kong grapples with social unrest that was triggered by a now-withdrawn extradition amendment bill in mid-June and grew increasingly violent and chaotic.
Violent clashes were seen on the city's streets and even university campuses, as protesters also brought the city's transportation system to a halt in November by blocking major roads and trashing subway stations, prompting a mass cancellation of events.
"I was very upset," said Sunny. "The event was scheduled to be Chan's first large-scale one in Hong Kong since his last Coliseum concert six year ago. My friends and I had invested a lot of money and time in getting the tickets," she said.
But the Cantopop enthusiast was also a bit relieved. She said many concerts, including those by pop singers Joey Yung in August and Kay Tse On-kay in early October, had been "hijacked" by radicals chanting anti-government slogans after protests turned violent.
"I loathe the act of letting politics intrude into every aspect of daily life. The rioters claim they are asking for freedom while they trash other people's freedom to enjoy their life to the fullest. At some level I was relieved, because I don't have to worry that Chan's concert will become another victim of the social unrest."
The Guangzhou-based office worker believes cultural and arts activities play an important role in daily life, and she often goes to the Hong Kong Coliseum for pop music concerts. She said it was a great pity to be unable to enjoy shows in the venue-which she described as the "paradise of concerts"-for the past three months.
The Hong Kong Coliseum, which opened in 1983, has established itself as a cultural icon associated with the heyday of Cantopop, and many singers have dreamed of performing there. Its inverted pyramid design gives audiences an unobstructed view.
"Even the cheapest seats have a good view," Sunny said, adding that she hoped the arena will be "given back" to music fans and singers.
However, the Coliseum has not held pop music concerts for at least two months, due to the political crisis that has pushed Hong Kong into its most dangerous situation since its handover in 1997.
Apart from shows at the Coliseum, other events that were canceled include Jay Chou's performance at Hong Kong Disneyland, the annual Oxfam Trailwalker race, the Wine & Dine Festival, and Clockenflap, the city's biggest annual music and arts festival, which had planned to present more than 100 international, regional and local shows.
According to a statement from Hong Kong Secretary for Security John Lee Ka-chiu, public recreational facilities, including sports centers, parks and swimming pools, had been temporarily closed on more than 1,900 occasions from mid-June to early November. For cultural venues such as concert halls, museums and libraries, the number was over 500.
A staff member of an entertainment company, who spoke on condition of anonymity, said her company suffered a huge blow after violence intensified in September.
"A lot of our partner companies canceled their events due to safety concerns. Our company has since endured a great loss. This ongoing crisis in the city even shakes future confidence in Hong Kong," she told China Daily.
Ma Fung-kwok, a Hong Kong lawmaker who represents the sports, performing arts, culture and publications constituency, said cultural arts activities in the city have been greatly affected by the social unrest, citing the cancellations of the New Year's Eve fireworks show and Lunar New Year's float parade.
"Culture and arts are the embodiment as well as pursuit of civilization. But the violence that has rocked the city runs against the civilized society and should not be condoned", said Ma, also a Hong Kong deputy to the National People's Congress, China's top legislature.
He called for joint efforts of all sectors of society to end the violence, restore order and get culture and arts back on the right track.
Meanwhile, after the monthslong pause, the Hong Kong Coliseum will present a concert by Andy Lau Tak-wah in February.
The Leisure and Cultural Services Department, which operates the Hong Kong Coliseum, told China Daily it will work closely with organizers to tighten security for all future events at the venue, ensuring public safety and smooth operations.