New infections in Heilongjiang show importance of vigilance in epidemic control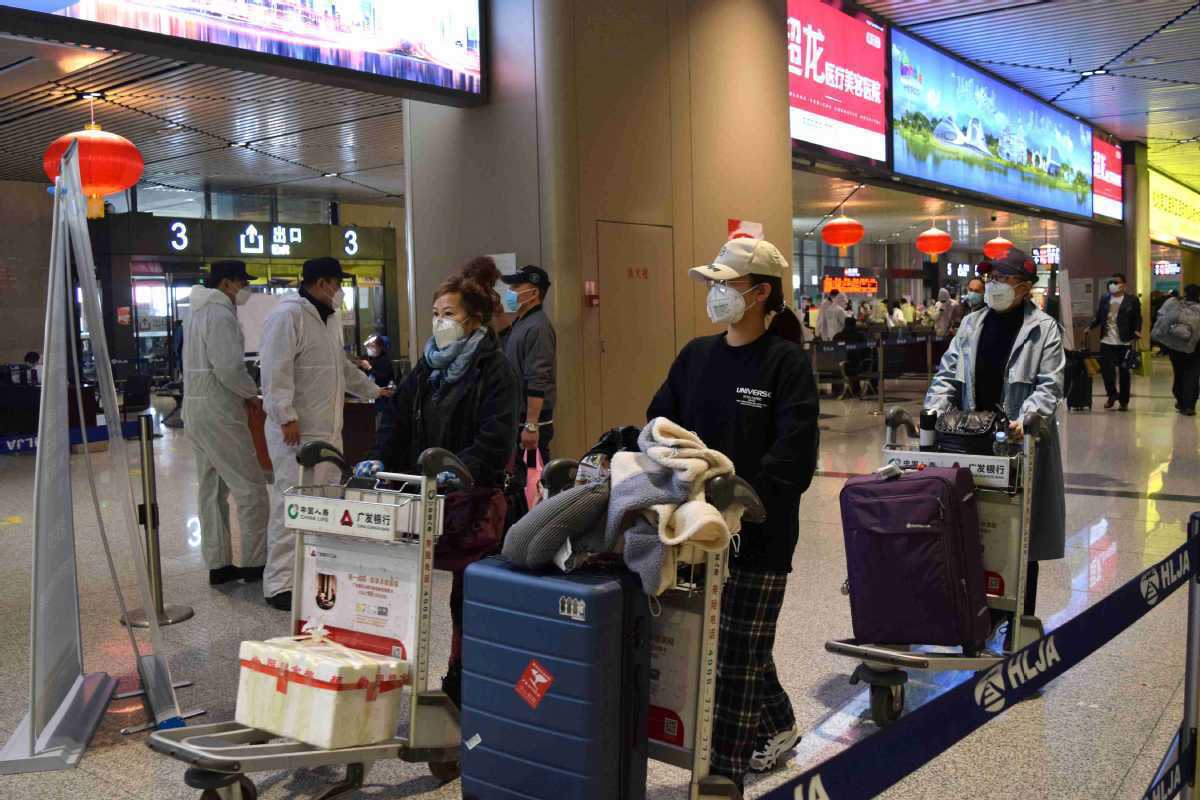 Travelers wearing masks push luggage carts at an airport in Harbin, Northeast China's Heilongjiang province, which borders Russia on April 11, 2020. (Photo: Agencies)
Recent cluster infections of COVID-19 in two cities in northeastern China's Heilongjiang province have shown loopholes in epidemic control, and all health authorities across the country are urged to stay vigilant, particularly against imported risks, a government release said on Friday.
Since April, clusters caused by imported coronavirus infections from abroad have resurged in the cities of Harbin and Mudanjiang.
The clusters also affected several hospitals, infecting more people including medical staff, causing negative social impact and new pressure to consolidate original achievements, according to a release from the Joint Prevention and Control Mechanism of the State Council.
According to the release, an 87-year-old patient surnamed Chen was admitted to a hospital in Harbin on April 2 for high body temperature (37.3 C), lower limb weakness and incontinence. Chen was transferred to another hospital on April 6 and on April 9. CT images showed high possibility of coronavirus infection and he was given nucleic acid and antibody tests. On April 10, Chen tested positive.
About a dozen people who had close contact with Chen during the process later either tested positive or were diagnosed with asymptomatic infections, including several medical staff in the hospital, according to the release.
In Mudanjiang, Kang'an Hospital on April 16 reported two suspected cases that were later confirmed on April 18. The two patients also infected several people, including medical staff in two local hospitals.
Epidemiological survey shows the sources of the two cluster infections are people who entered China from abroad. As cities with customs, Harbin and Mudanjiang have failed to realize the risk of imported infections, and had lax approaches to curbing the epidemic, the release said.
The release also declared the two cities also failed to implement 14-day quarantine measures on entries from overseas, and local communities should be held responsible for lacking supervision, as the cluster infection in Harbin was resulted from the patient surnamed Chen going out for dinner with friends or families.
The resurgence of infections has also exposed loopholes in infection control in hospitals, and the lagging capability of conducting nucleic acid tests in medical institutions in Harbin, it said.
All health authorities and medical institutions across the country are required to to draw lessons from it, fully understand the severe situation of the epidemic and continue with stringent control measures. Border areas need to pay particular attention to imported cases to prevent local infections, according to the State Council release.
All localities should improve management to discover, report, isolate and treat infections as early as possible, and provide support in policies, funds, manpower and materials to help medical institutions improve testing capacity and efficiency and enhance infection prevention and control capabilities.