Xi meets Thai prime minister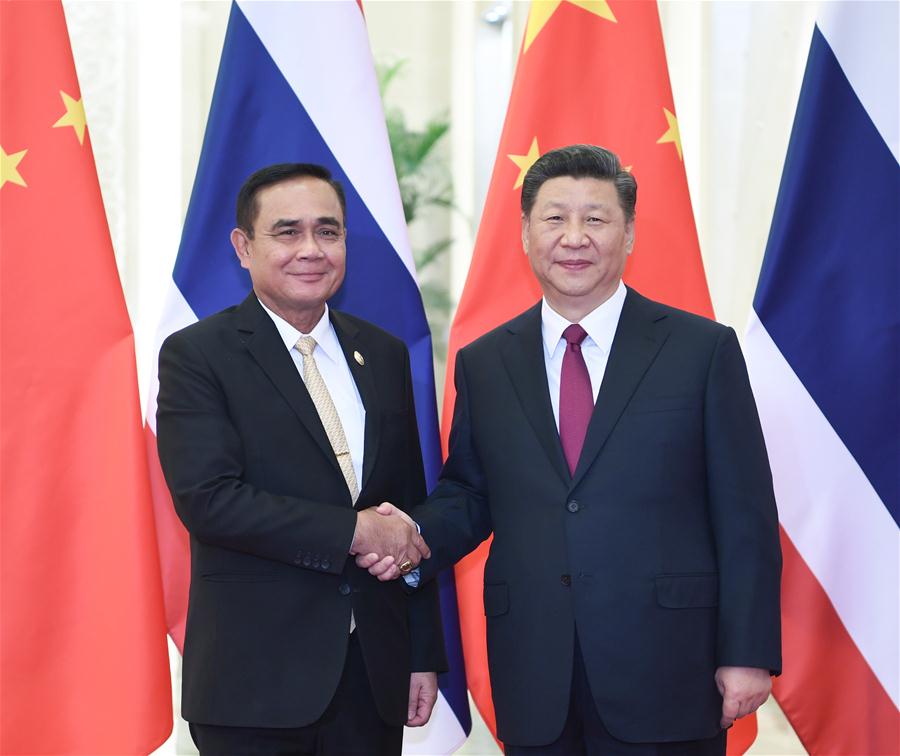 Chinese President Xi Jinping (R) meets with Thai Prime Minister Prayut Chan-o-cha, who is here to attend the Second Belt and Road Forum for International Cooperation, in Beijing, capital of China, April 26, 2019. (Photo: Xinhua)

BEIJING, April 26 (Xinhua) -- Chinese President Xi Jinping on Friday met with Thai Prime Minister Prayut Chan-o-cha, who is here to attend the Second Belt and Road Forum for International Cooperation.
Xi said China and Thailand are close neighbors, and the joint development of the Belt and Road Initiative (BRI) makes the already amicable bilateral relations even better.
The two countries should carry forward the traditional friendship and enhance high-level contacts, so as to guide the sound development of the bilateral ties, he said.
China will continue to support Thailand's efforts in maintaining domestic stability and promoting national development, and is willing to strengthen the alignment of the two countries' development strategies and advance high-quality BRI cooperation, to give a strong boost to the bilateral ties, Xi said.
China supports Thailand's role as the rotating chair of the Association of Southeast Asian Nations (ASEAN) this year, Xi said, adding that China is willing to deeply align the BRI with the ASEAN's connectivity plan.
Prayut spoke highly of China's achievements in fields including economic growth, poverty relief and environmental protection.
He said Thailand benefited greatly from the infrastructure and data connectivity since the inception of the BRI almost six years ago, adding that Thailand will continue to support and actively engage in the BRI cooperation.