Xi says senior officials 'crucial' in Party, state governance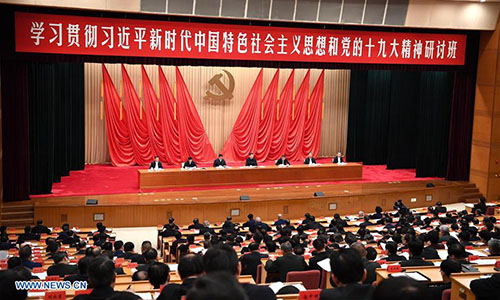 Chinese President Xi Jinping, also general secretary of the Communist Party of China (CPC) Central Committee and chairman of the Central Military Commission, addresses the opening of a workshop attended by newly-elected members and alternate members of the CPC Central Committee, as well as provincial and ministerial-level officials, in Beijing, capital of China, Jan. 5, 2018. Photo: Xinhua/Zhang Duo
Chinese President Xi Jinping on Friday said that members of the Communist Party of China (CPC) Central Committee and provincial and ministerial-level officials are "crucial" to the sound governance of the Party and the country.
Xi, also general secretary of the CPC Central Committee and chairman of the Central Military Commission, made the remarks at the opening of a workshop attended by newly-elected members and alternate members of the CPC Central Committee, as well as provincial and ministerial-level officials.
Xi called on such officials to raise their political awareness, adopt a historical perspective, reinforce theoretical thinking, think in big-picture terms and improve their knowledge and intellectual attainments to think and understand major theoretical and practical issues with a broader perspective.
The workshop is focused on the study and implementation of "Xi Jinping Thought on Socialism with Chinese Characteristics for a New Era" and the spirit of the 19th CPC National Congress.