Chinese-Italian cooperation boon for mural restoration
Global Times
1515966737000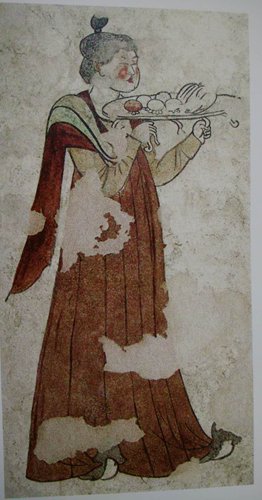 Mural of a Maidservant with a Dish Photo: Courtesy of Wang Jianqi
If you could travel through time, which period would you want to visit the most?

"If it were possible, I would like to travel back to the Tang Dynasty (618-907), " said Li Yang, an archaeology major studying in Xi'an, Shaanxi Province.

"It was a more open society and women were allowed to wear more casual clothing," he noted.

An age famed for its great cultural splendor, the Tang Dynasty has captured the imagination of modern scholars with its fantastic art, especially murals.

One of these scholars, Wang Jianqi, an expert in murals, sat down with the Global Times for a phone interview to share his experiences researching this art form at the Shaanxi History Museum.

Setting the example

An inheritor of mural art, Wang has dedicated himself to restoring murals around China.

"For the Exhibition Hall of Tang Dynasty Mural Paintings, we worked with experts from Italy to restore the murals, as well as design the facilities, display cases, lights, network and environmental control system," Wang told the Global Times.

"We used the most advanced technology and techniques in designing the hall. Because we made full use of modern facilities, we were very successful in restoring and preserving those murals," said Wang.

When asked what was the most impressive mural he has restored, Wang replied that it was the Mural of a Maidservant with a Dish.

"It was the perfect role model for mural restoration. An extremely difficult and complicated task, many experts from China and Italy gathered together to discuss the best way to start."

Located in the main hall of the Tang Dynasty Mural Paintings, the Mural of a Maidservant with a Dish was excavated in 1975 from the west wall of the front chamber of the Tomb of Princess Fangling in Fuping county, Shaanxi Province.

The mural was painted in 673 during the reign of Emperor Gaozong of Tang. A total 180 centimeters high and 96 centimeters wide, the mural depicts a maidservant whose hair has been styled into a single ball bun holding a large round dish. With her round rosy cheeks and short yellow garment and red scarf, she looks like the classic image of a Tang Dynasty woman.

As large chunks of the wall were missing from her arms and body, restoring the mural was a very difficult endeavor. According to Wang, chipped portions of the mural were painted in a lighter color that can be seen under a strong light in order to "let the next generation know that these portions were repainted," Wang said.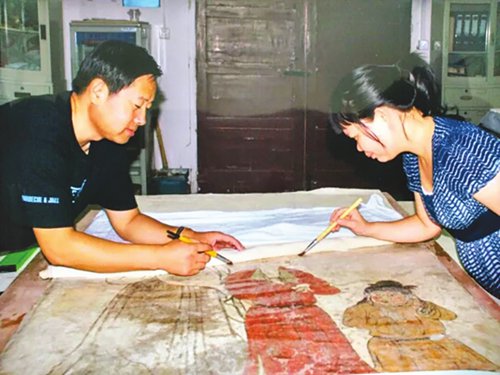 Mural of a Maidservant with a DishWang Jianqi (left) restores a mural. Photo: Courtesy of Wang Jianqi
Since the mural was painted on a mud wall, the restoration artists had to use special materials to ensure the paint they used stuck to the wall.

"This project provided valuable experience for the future. This is also why we recorded everything, from our initial research to the actual restoration process. I feel that this will help benefit other mural restoration projects," Wang said.

Major breakthroughs

"Both Chinese and Italian restorers have learned from each others' experiences. We had our goal of restoring murals to their original beauty in olden times, while Italian experts introduced their ideas about enhancing the readability of the painting. These were perfectly applied in our restoration work and can be considered the biggest breakthrough of our cooperation," Wang told the Global Times.

When it came to restoring the murals, Wang stressed that one of their other big breakthroughs was the use of high technology.

"We used machines from Italy to clean the murals and record the issues that were unique to each mural," Wang said. "We repaired each mural in different ways depending on what was needed. For example, we used solvent, special sponges and even laser instruments to deal with different types of stains including dust, mud and mildew. To examine a broken part of the mural, X-ray scanning, fluorescence imaging and other noninvasive techniques were used to help draw up restoration plans."

Wang noted that the exhibition provided a good foundation for future cooperation between the two countries.

"A training center dedicated to mural preservation and restoration is currently under construction. We hope this will act as a platform for the study of murals in the future."

After working in the mural restoration field for more than 40 years, Wang is now retired. Currently, he is concentrating his efforts on training future restorers, "I want to hand down this skill to the next generation," he said.