Less travel expected for China's 2021 Spring Festival holiday
Global Times
1610494396000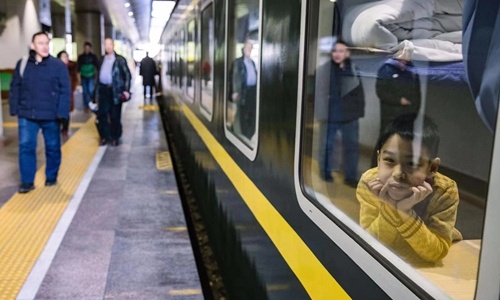 The annual travel during the Spring Festival holidays, called Chunyun in Chinese, will see a lower scale of population flow than normal level this year, 11 national ministries said in a joint notice on Tuesday.
This year marks the 100th anniversary of the founding of the Communist Party of China, and it is also the first year of the 14th Five-Year Plan. It is very important to do a good job during the Spring Festival holidays when epidemic prevention is a priority, according to the notice posted on the website of the National Development and Reform Commission (NDRC), the national economic planner.
Given the reduced demand and increased capacity, it is expected that the pressure on commercial passenger transport systems will be reduced, and the preference for use of small passenger vehicles will increase significantly, according to the notice.
The 2021 Spring Festival travel rush will kick off on January 28, lasting for 40 days until March 8. Pre-sales of train tickets started on December 30, according to the national rail operator.
Following the latest coronavirus resurgence in some northern regions in China, dozens of provinces, municipalities and cities including Beijing, Shanghai and Shenzhen have issued notices suggesting that the public should avoid "unnecessary travel back to hometowns" during the upcoming holiday.
Macao's Labor Affairs Bureau issued an appeal on Monday, urging mainland workers residing in Macao not to return to their hometowns in China during the travel season.
The labor union organization should actively negotiate with the employers about when the work halts and resumes, to avoid a peak flow of migrant workers who would like to return to their hometowns and then back to the workplace, read the notice.
Internet companies have been encouraged to develop information service products for the Spring Festival travel season by using big data and other technologies to predict and release information on popular destinations, traffic hub passenger flow, and road congestion in a timely manner.
Before Chunyun starts, it is necessary to check the deployment and implementation of epidemic prevention and control measures to rectify various hidden dangers. Important transportation hubs should also be guided to set up isolation areas during the holiday, according to the notice.
The suggestions for enhancing epidemic prevention and control during the holiday as per the notice have been researched by 11 national ministries including the NDRC, the Ministry of Transport and the National Railway Administration.