Beijing intl flight diversions drastically reduce imported virus cases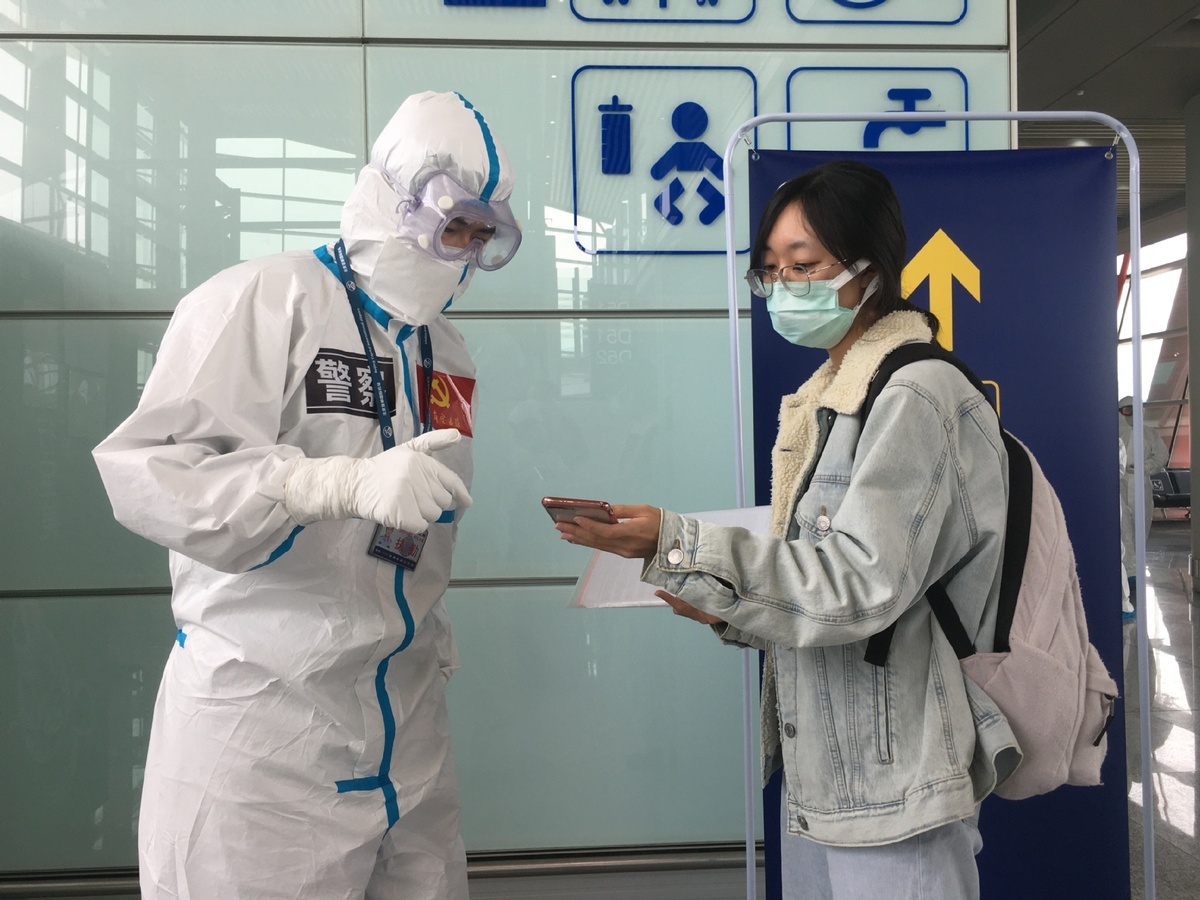 Lu Tao, left, who oversees anti-virus work at Zone D of Beijing Capital International Airport, where all arrivals from overseas are screened, helps a passenger on March 26, 2020. (Photo: Xinhua)
Beijing has effectively curbed the influx of imported cases of the novel coronavirus with the smooth operation of diverting international flights due to arrive in the capital to a dozen cities as their first port of entry, the country's aviation regulator said on Monday.
As an important international aviation hub in the country, Beijing Capital International Airport has been at high risk of imported cases, said Sun Shaohua, deputy head of operations and the monitoring center of the Civil Aviation Administration of China, at a daily briefing.
Capital Airport used to handle over 200 international passenger flights on a weekly basis and connected with 33 countries, including the United States, South Korea, France, Germany and Spain before implementing flight diversion, he added.
With the new measure effective on March 20, 135 international flights carrying 29,999 passengers bound for Beijing have been diverted to 12 designated airports as of Sunday, where all passengers must be tested for the virus upon disembarkation, before those cleared of the pathogen are allowed to reboard the aircraft to the capital, he said.
About 87 percent of the passengers failed to pass health inspections or were in proximity to those who failed. All of them were either held locally for treatment or placed in 14-day quarantine, he added.
"The measure proves effective in controlling the continuous imported cases into Beijing and improving the safety protection of the inbound passengers, as well as enhancing the efficiency of customs clearance," he said.
The administration also has been slashing international passenger flights since March 29, Sun said, adding that Capital Airport is expected to handle 89 such flights this month, a staggering drop of 80 percent prior to cutting down flights, and the same number of flights in May, as well.
The cities of the first port of entry also have seen no more than one flight a day, which eases their pressure in handling inbound passengers, he added.
With the continuous improvement of the anti-epidemic measures and inspection capabilities at the 12 cities, quarantine facilities for passengers held locally are able to meet current needs, he said.