Ban on fishing to take effect from May 1st in East China Sea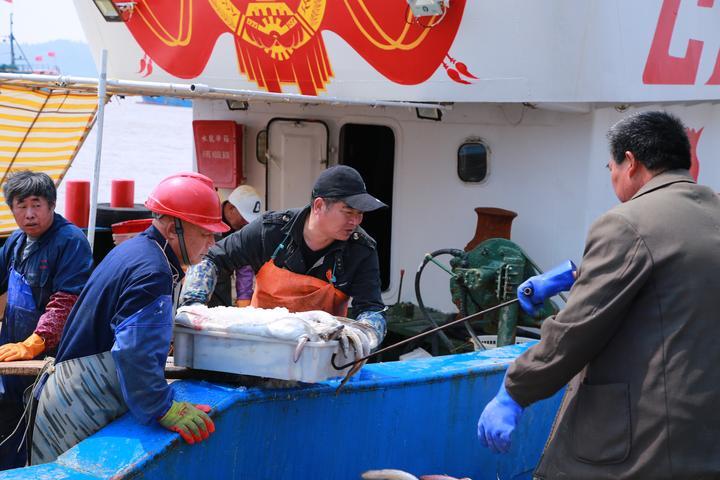 File photo: Xinhua
A full fishing moratorium on all types of marine fishing operations except fishing tackles will be put upon the East China Sea from May 1st, and eight kinds of freezing or fresh seafood such as yellow croaker, silver pomfret, octopus, and shrimp will be banned from sale from May 8th.
According to Zhejiang Provincial Marine and Fisheries Law Enforcement Team, the "Administrative Plan for the Enforcement of 2020 Seasonal Off-Sea Fisheries" was issued on April 27th. The 'Plan' requires that fishing vessels within the jurisdiction "should stop the unnecessary fishing activities". The Team will fully cooperate with the local governments to prevent and control the epidemic situation among marine fishing vessels, focusing on the law enforcement and supervision over foreign fishing vessels to firmly plug the possible loopholes in epidemic prevention and control.
Zhejiang Province will strictly control fishing vessels from other provinces this year. During the fishing moratorium, all fishing vessels from other provinces will be asked to return to the port of registry. The provincial fishing vessels within and outside the jurisdiction will be comprehensively inspected and registered on a vessel-by-vessel basis to make sure the disposal work carried out in accordance with the requirements from the Epidemic Prevention and Control Office.
How long is the fishing moratorium?
The fishing moratorium is in effect in the East China Sea from 12:00 on April 1st, and fishing vessels that catching pregnant Portunidae and juvenile crabs are prohibited from operating.
The East China Sea Hairtail National Aquatic Germplasm Resources Protection Zone has also entered a fishing ban period from 12:00 on April 16th which will last for five months.
Will we still have access to seafood during the fish moratorium?
Though there is a fishing break regularly every year, some citizens still worry about whether the seafood will be available in markets during the period.
According to what we have known so far, in spite of a reduction in quantity of seafood, the supply will not be fully cut off. "It is inevitable to have a lack of fresh seafood from the East China Sea during the fishing moratorium, but the supply of frozen aquatic products as well as farmed and imported aquatic products will be ensured." the spokesman from the Zhejiang Provincial Marine and Fisheries Enforcement Team said. Additionally, fishing tackles can be used to catch hairtail and eel.
The farmed and imported seafood can be reached in the local market after May 8th. Besides, fishing boats equipped with cage pots, shrimps nets, lights, gill nets, etc. are allowed to catch sea food like shrimps, crabs, little yellow croakers and mackerels to satisfy people's appetite from August 1st.