China shuts down over 200 education programs run jointly with foreign colleges
Global Times
1532622127000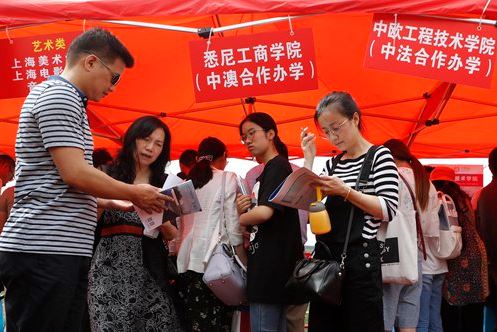 Students and parents gather at an information session about Sino-foreign university partnership programs, which was held in Shanghai in June. (Photo: VCG)
For Chinese students, participating in the national college entrance examinations or applying for overseas study are no longer the only ways to get a diploma and achieve their career goals. Attending Sino-foreign universities and receiving an overseas education at home has become increasingly popular in recent years.
However, a recent notice released by the Ministry of Education (MOE) is striking fear into many students and parents. The notice announced the termination of 234 partnerships between Chinese and overseas institutions and programs, including five jointly managed institutions. This represents about 1 in 5 of the total number of such partnerships.
The ministry said the partnership model plays a significant role in promoting education reform and cultivating creative talent, but along with the rapid development of the joint programs, some institutions were poorly funded or had poor teaching quality. The ministry decided to shut them down due to a sense of dissatisfaction from students.
The notice comes amid the college application season. Some students and parents wonder if they should avoid all joint programs for fear that the degree may not be recognized by the MOE in the future. They wonder whether their degrees obtained from joint programs will be valuable for their future career.
End of the road
"To be honest, I know my school will eventually die one day," Tao Yang (pseudonym), a graduate student from Oumei College of Hebei Normal University of Science and Technology, told 21jingji.com.
The college was established jointly with Canada's Medicine Hat College in 2002 and stopped recruiting students years ago. The recruitment brochure said the college imported courses and textbooks from Medicine Hat College and is taught bilingually. After two years of study at home, the students can go to Canada to finish the remaining two years. They can acquire diplomas from the two schools after graduation.
Tao told 21jingji.com that there was no bilingual education in her major and she did not apply for the study in Canada. "Like most of the students, I chose the school because it could grant me with an undergraduate diploma," she said.
Another one of the five closed jointly-managed institutions is the Zhuoyue International College, which was established by the University of International Business and Economics (UIBE) in Beijing and Fort Hays State University in the US.
On the college's official website, it says the college, located in Langfang, Hebei Province, is a branch of UIBE, aiming to cultivate creative and versatile international talent.
An article published on the UIBE website said that Zhuoyue International College is one of the school's partnership programs. The school said it cooperates with reputable overseas universities and refuted media reports suggesting that the college was a result of cooperation with overseas fly-by-night schools.
"The Sino-foreign partnership institutions and programs have long been questioned by students and parents, as they charge high tuition fees and claim to provide international education, but turn out to be no different from ordinary programs. The programs eventually serve as a channel to get a diploma," Xiong Bingqi, deputy director of the 21st Century Education Research Institute, told the Global Times. "Some of those programs only offer students an overseas diploma. Therefore, both schools treat the program as a profitable business and implement loose recruitment requirements. Some Chinese schools even cooperate with unaccredited overseas institutions," said Xiong.
In China, it is widely known that attending Sino-foreign university schools, which require lower national college entrance examination scores, could be a decent way for some students to get a recognized degree and a chance to study overseas.
Especially for those who earned good scores but still could not reach the threshold of China's top universities like Tsinghua and Peking, a Sino-foreign university serves as a perfect channel for them to enter an elite school and get an overseas school diploma.
Quality partners
Insiders pointed out that the sweeping shutdown only targets those schools which have already stopped recruiting students or have no capability to attract new students. It will not affect esteemed partnership programs, which are still competitive for students who obtained fairly good college exam scores.
Liu Jingnan, chancellor of Kunshan Duke University, told the Global Times previously that Sino-foreign universities look at a variety of factors beyond entrance examination scores in student enrollment, unlike most Chinese schools.
To be admitted to Kunshan Duke, college entrance exam scores account for 50 percent, while overall performance during senior school years counts for 40 percent, said Liu. He added that over 30 percent of professors at the school were sent by Duke University.