One of world's four giant softshell turtles dies in East China after artificial insemination
Global Times
1555283822000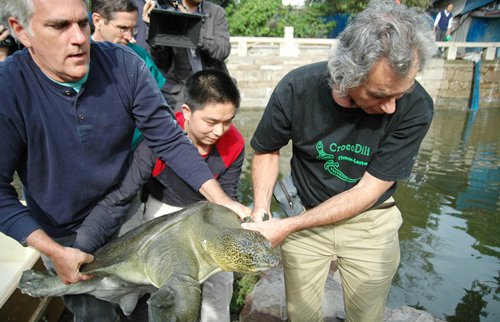 Experts move an endangered female speckled softshell turtle from a pond in Changsha city, central China's Hunan province, 6 May 2008. (Photo: IC)
What may be the world's last female Yangtze giant softshell turtle died Saturday after an aborted attempt at artificial insemination on Friday at a zoo in Suzhou, East China's Jiangsu Province on Saturday.
The turtle, China's only female Yangtze giant softshell turtle, was more than 90 years old. There are now only three known such turtles left in the world and it is not known if one of them is female.
The Suzhou Shangfangshan Forest Zoo had made five failed attempts to artificially inseminate the turtle since 2008. The latest development showed that the 13-year plan to artificially breed and save Yangtze giant softshell turtles had failed, media reports said.
The zoo spent 24 hours trying to revive the dead animal and experts have collected and preserved its ovarian tissue for future study, according to the Suzhou Daily.
"The cause of death is still under investigation and will be announced later by the China Wildlife Conservation Association," an employee of the zoo told the Global Times on Sunday on the condition of anonymity.
Before the attempted artificial insemination, experts had performed extensive tests on the two turtles living at the zoo and determined they were in good health, the Suzhou Daily reported.
"Only three known surviving Yangtze giant softshell turtles are now left in the world. A male in China and two in Vietnam," said the employee. Online reports say the gender of the turtles in Vietnam has not been determined.
The female Yangtze giant softshell turtle was moved to Suzhou from the Changsha Ecological Zoo in 2008 in Central China's Hunan Province, according to the employee. It was planned to be paired with the male turtle who is now over 100 years old at the Suzhou zoo.
Weighing an average 115 kilograms, the Yangtze giant softshell turtle is easily recognizable but was not appropriately protected in China. The turtle was not included in the 1989 national endangered species list, which contributed to its demise, said an article by the Chinese Academy of Sciences published in 2017, citing Rao Dingqi, research fellow at the Kunming Institute of Zoology of CAS.
Overfishing, habitat loss and other human activities are also to blame, the article read.