China's latest guideline on school disciplines to address growing tensions between teachers and parents
Global Times
1614519102000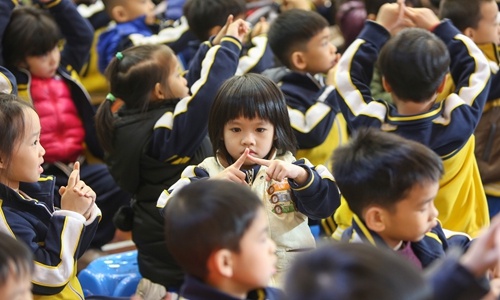 In the latest guideline on primary and secondary school disciplines to come into effect on Monday, China for the first time defines and clarifies the content and scope of educational disciplines as well as the do's and don'ts for teachers, which aims to ease the escalating tensions between schools and parents on educating children, but detailed explanations for the guidelines are still needed, educational experts noted.
The Discipline Guidelines and Rules for Primary and Secondary Schools defines the term "school discipline" as the management of students who break school rules to correct their mistakes and keep them in line for the purpose of achieving educational goals.
The guideline will be adopted in all primary and secondary schools nationwide as well as in secondary vocational schools, the People's Daily reported on Sunday.
The guideline gives a clear explanation of students' actions that will count as "violating school regulations and requiring discipline," the report said, which includes disobeying teaching tasks on purpose, disrupting classroom order, smoking and drinking alcohol, and other behaviors that could pose dangers to the physical and psychological health of peers, such as bullying.
It also categorizes the scope of disciplinary actions into three levels based on the seriousness of violation of such rules, which also involve different requirements for schools to inform the students' parents.
For example, teachers are allowed to give timeouts or ask for written or oral apologies from students who moderately break school rules without informing the parents in advance. For those who commit serious violations, teachers must tell the parents before they give punishments to the students involved.
Such a guideline is seen as a "considerate move" that will draw clear boundaries and solve disputes between the schools, students and parents.
"With the implementation of this guideline, teachers can criticize improper behavior without worrying if the punishments are too light or too heavy, which would have brought objections from parents who thought them 'inappropriate,'" a middle school teacher, surnamed Hua, based in Wuxi, East China's Jiangsu Province, told the Global Times on Sunday.
The issuance of the guideline, which has become a heated topic on China's social media platforms, comes against the backdrop of escalating tensions between schools and parents over growing arguments on educating children in recent years.
"To some extent, the guideline can address this problem, but educational authorities must lay out more details in order for schools to implement it," Xiong Bingqi, director of the 21st Century Education Research Institute in Beijing, told the Global Times on Sunday.
Xiong also noted that the rolling out of the guideline provides a legal basis that prevents parents from interfering in school management and teachers from abusing their powers.