Chinese tourist spot lauded for offering 'one-buck' meal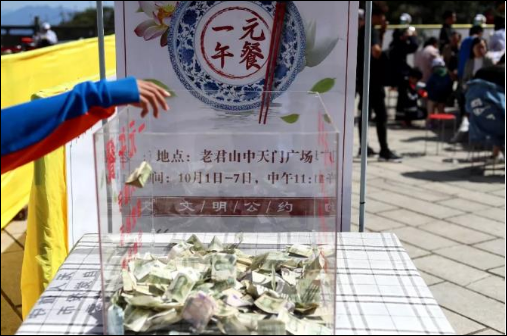 (Photo: CGTN)
Food and drinks sold at many Chinese tourist spots are often notoriously priced higher than their market price. But there are always exceptions. A national geological park in central China is winning hearts during the National Day holiday week by offering "one-buck lunch meal."
Mt. Laojun Mountain National Geological Park, located in Luoyang City, central China's Henan Province welcomed thousands of tourists with a bowl full of noodle soup almost for free.
As swarms of tourists lined up for the lunch service, they were greeted with a transparent donation box asking people to toss in just one yuan (0.15 US dollars) for the tasty meal.
"One-yuan lunch, no cashier. Pay consciously and help yourself with changes," read a note on the donation box.
The lunch meal consisted of a bowl of noodle soup, a sausage and a steamed bun. Staff cooked the meal with local food ingredients which were affordable regional specialties, China News reported.
"To offer visitors a bite of warm food is to share our sincere and heartfelt welcome," said Gao Hong, deputy manager of the scenic park. He explained that charging tourists one buck is just a tactic to prevent food waste.
Many visitors applauded the park's effort, with some voluntarily paying extra for the food.
On Monday, a total of 1,200 tourists queued for the lunch treat, while the park received 1,275 yuan from the cash box.
"One yuan for a bowl of noodle soup, a sausage and a bun is so worthy," a local visitor told China News. "I decided to pay five extra bucks since they've offered us such a good treat."
"Food price keeps rising in other tourist spots," another tourist from north China's Hebei Province said. "I've never seen a food meal service like this."
Laojun Mountain's "one-buck lunch meal" has set the social media platforms buzzing with heated discussions. While some netizens believed the service was just another marketing scam, others praised the park for offering food at a reasonable price.
"Some tourist spots charge 10 yuan for a bottle of water. This is honest business," a netizen commented on Chinese social media platform Weibo.