SCO youths discuss ways to fight terrorism, extremism at Hainan assembly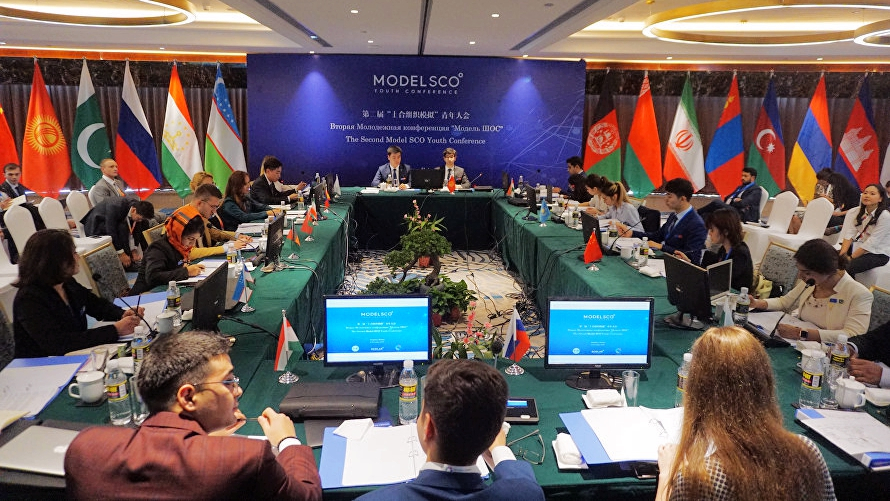 A session of the "Model SCO" youth conference in progress at the SCO Countries Youth Representative Assembly in Dongfang City, Hainan Province, China. (Photo: via SCO)
There's an urgent need to educate people about the disastrous impact of terrorism and extremism and a platform such as the Shanghai Cooperation Organization (SCO) could play a key role in preventing the youth in the region from being radicalized by false religious beliefs, Afghan national Negina Sana told CGTN Digital echoing the underlying theme of the SCO Countries Youth Representative Assembly which concluded on Sunday in China's southernmost Hainan Province.
The picturesque coastal city transformed into a hub of youth energy from November 9 to 11 as it played host to the youth assembly with a proclaimed theme of "SCO Youth Against Terrorism and Extremism."
Jointly organized by the Shanghai Cooperation Organization (SCO) Secretariat in Beijing and the current rotating president of the SCO Youth Council, Kyrgyzstan and aided by the SCO Countries Youth League (SCOLAR), the three-day event saw hundreds of young leaders and volunteers from all the 18 SCO countries – eight member states, four observers and six dialogue partners – descending on the picturesque coastal city to put up a unified stand against the global menace.
Related story: SCO youth campaign against terrorism, extremism ahead of Hainan assembly
SCO Secretary-General Rashid Alimov highlighted the threats to young people in his keynote address on Friday.
"Massive information, ideological and psychological impact, imposing alien values and false religious beliefs have led to horrendous human tragedies and claimed many human lives. Those young people who set out on that slippery road move away from traditional moral values, lose their inner moral compass and follow a path that leads to a blind alley," he said.
"SCO member state leaders are confident that the young people united by the 'Shanghai Spirit' are capable of resolutely rebuking these destructive forces, and of becoming a powerful creative force that stands against the spread of alien ideas like terrorism, extremism and the rejection of law," Alimov added in a positive note.
Anguish of an Afghan survivor
Stressing that nearly all the SCO countries have faced the scourge of terrorism and religious extremism, Kabul-resident Sana, who represented her war-torn country as a delegate at the event, said: "Afghanistan in particular has suffered a great deal over the last decades and needs a long-lasting solution. So it was a great idea to have youth from all the SCO countries debate the issue and share ideas on how to fight the dual menace."
The 23-year-old Afghan woman has borne the impact of terrorism at a personal level after her family was forced to immigrate to neighboring Pakistan in the early 90s after Kabul fell into the hands of religious extremists.
"Our family house in Kabul was burnt in 1992 after which my parents along with their four sons at the time moved to Peshawar in Pakistan. I and one more brother were born in Peshawar and have lived most of my life as an immigrant," Sana said, elucidating on how extremism affected her life both directly and indirectly.
"One of my elder brothers died at the age of 12 when he drowned in the local river in Peshawar. My mother has always blamed the situation back home for his death. She felt had there been peace in Afghanistan, we wouldn't have left the country and therefore that accident wouldn't have occurred," she said.
However, the Afghan woman is mindful of the fact the many of her compatriots have faced worse. "I still consider myself fortunate as I know several others who have witnessed unthinkable atrocities and tragedies due to terrorism and extremism which has driven generations into poverty, illiteracy and narcotics. And they are still suffering."
Sana's family moved back to Kabul in 2012 with conditions looking to improve in Afghanistan. Earlier this year, she joined a master's program at the Beijing Language and Culture University, which also paved the way for her to get associated with SCO and SCOLAR.
She is hopeful that joint initiatives by SCO countries such as the youth assembly could prove to be effective in the global war against terrorism and extremism.
"One of the ideas thrown up at the Hainan event was to prepare online and offline educational material and also offer psychological help to children and parents to prevent them from being influenced by religious misconceptions and propaganda spread by terrorist organization," Sana said, adding that she would look to contribute in such conversations that could also help in bringing long-term peace to her own country.
Fostering leadership
Two of SCOLAR's flagship programs – "Model SCO" youth conference and "Leader of the 21st Century" intellectual contest – were among the main sub events at the youth assembly. In additional, a range of sports, cultural and recreational activities were also held.
The 18 participants at the "Model SCO" were shortlisted after a contest among 300 of their peers. "Such conferences provide a unique possibility to feel just like a diplomat. All the young people here were prepared very thoroughly and displayed a high level of expertise and profound knowledge. All our discussions were very interesting and useful for understanding where the SCO stands and its role in the modern world," said Zoon Akhmed Khan, who represented Pakistan at the conference.
For Tajik national Sarvar Ismailov, it was the first time he participated in such a conference. "It helped me get to know some of the secrets regarding complicated diplomatic work. I also had an opportunity to learn more about current international relations, especially when it comes to the fight against international terrorism and extremism. I have gained a lot of knowledge and this event without a doubt has been a very valuable experience."
The "Leader of the 21st Century" was aimed at fostering modern leadership and management skills and learning about the basics of the SCO's performance and the mechanisms of its operation grounded in the unwavering principles of the Shanghai Spirit, which comprises universal values such as mutual trust, mutual benefit, equality, consultation, respect for cultural diversity, and pursuit of common development.
"There were numerous occasions 'outside the conference agenda' when the youth participants were seen discussing highly unresolved (often deeply controversial) issues between their countries. The way these discussions were done shows that the future is bright for the region," Indian participant Kushal Sagar Prakash told CGTN Digital

"They took a solution-oriented approach, along with a fair recognition of the biases in the narratives that they were exposed to back in their home countries. That is truly the first step to solving the difficult issues that the member countries disagree on," he added.
"The conference also emphasized getting the participants to bond with one another outside the official setting. The strategy worked effectively as the delegates and the young leaders danced, sang and participated in sports together," said the Schwarzman Scholar at Beijing's Tsinghua University.
Prakash stressed on the need to establish the SCO youth platform in other member countries too. "This would make the discourse on common topics more robust and lead to a enable the youth in the region to forge closer ties. The way SCOLAR in China established the platform can provide a blueprint," he concluded.