Panda pair released in wild to test adaptation and increase population
Global Times
1511465165000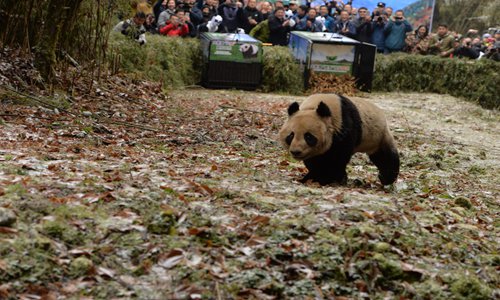 A crowd watches as giant pandas Baxi and Yingxue, both born in captivity, are successfully released into the Liziping Nature Reserve in Sichuan, Southwest China on Thursday. Photo: VCG

Captive-bred giant pandas Baxi and Yingxue were successfully released into the Liziping Nature Reserve in Sichuan in Southwest China on Thursday, the second time a pair of pandas was sent into the wild at the same time.
"Releasing them to the wild aims to test their adaptive capability and observe their survival movements in the wild. It will also help increase the population of wild pandas," Li Chunliang, vice president of State Forestry Administration said at the Thursday's ceremony.
"Seven captive-bred giant pandas have been returned to nature since 2006," said Li.
The China Panda Protection Center said in a statement sent to the Global Times that Baxi and Yingxue have been training for over two years for their eventual return to the wild at the Wolong Hetaoping base in Tiantai Mountain since birth.
Li Desheng, a specialist at the China Panda Protection Center, said the two pandas' training has been outstanding. "They know how to spot an enemy, make friends, build a home, and search for food and water."
"Yingxue has independently lived in the wild since May this year," Wu Daifu, Hetaoping base director, told the Chengdu Business Daily.
Baxi weighs 65 kilograms and is 107 centimeters long, while Yingxue weighs 59 kilogram and measures 89 centimeters in length.
The Liziping National Reserve has had a long history of dealing with captive-bred pandas, with suitable conditions for the animal and researchers.
The pandas wear GPS-powered collars and telemetry systems to collect data and to monitor their activities at the reserve's China Panda Protection Center.
China has 518 captive-bred giant pandas.