PLA tests truck-based rocket-propelled mine launchers in plateau region
Global Times
1602762326000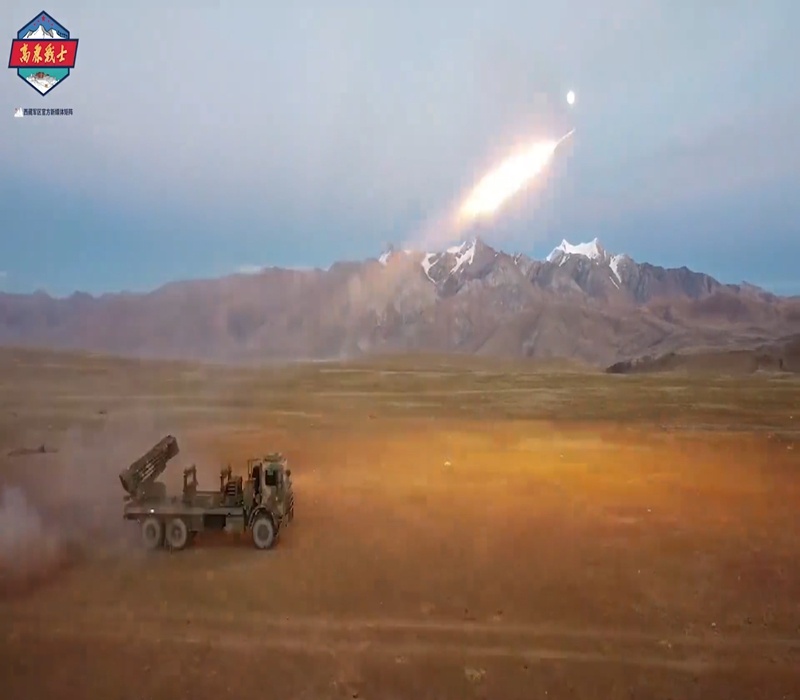 The Chinese People's Liberation Army (PLA) Tibet Military Command recently conducted live-fire test training exercises with its latest truck-based multiple rocket-propelled mine launchers at a high altitude. This type of weapon will allow a rapid regional lockdown during combat, and it is much more efficient than manual work, analysts said on Thursday.

A brigade under the PLA Tibet Military Command dispatched several truck-based multiple rocket-propelled mine launchers to a training ground at an elevation of more than 4,300 meters and conducted a test shooting exercise under simulated combat scenarios, the command said in a statement released on Wednesday.
The test achieved its goal of remotely setting up obstacles and placing mines across a whole region, and it comprehensively examined and boosted the troops' capability to set up obstacles with advanced weapons and equipment in an environment where temperatures and oxygen levels are low, the statement said.
According to a video attached to the statement, one truck carries 40 rocket-launching barrels, and the rocket-propelled mines are fired at short intervals, just like a standard multiple rocket launcher system.
The statement did not give further details about the weapon, including its designation and specifications.
The truck-based rocket-propelled mine launcher is characterized by its high mobility, and the mines it fired are scattered on the surface of the ground instead of buried in the ground, Weihutang, a program on military affairs under China Central Television (CCTV), reported on Wednesday.
It can set up a temporary mine field in the path of an enemy army and slow its advance, or it can be used to temporarily secure a perimeter and lock down a breach in a defense line, the report said.
Using rockets to set up mines is more efficient than manual work, particularly in high-altitude border regions, which have harsh environments characterized by low oxygen levels, low temperatures, and complex terrains, a military expert who asked not to be identified told the Global Times on Thursday.
The mines will attach to the ground but won't be embedded in the ground, which will make them easier to spot and dismantle, thus reducing casualties. But they will be enough to slow down an enemy, particularly one using large equipment, in a temporary lockdown and win a crucial time advantage, the expert said.
China and India have been involved in high-altitude border tensions for months. A seventh round of a senior commanders' meeting of China and India was positive, constructive and had enhanced understanding of both sides, Chinese Defense Ministry spokesperson Senior Colonel Ren Guoqiang announced on Tuesday.