Books on Xi's years in Xiamen, Ningde published
BEIJING, Jan. 3 (Xinhua) - Two books recalling the years Chinese leader Xi Jinping spent in Xiamen and Ningde respectively in the 1980s were published.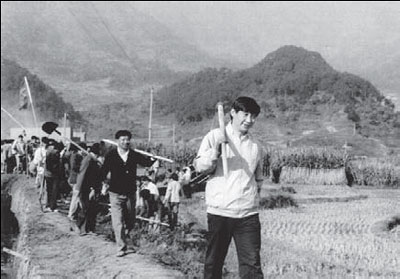 Xi Jinping, then Party chief of the Ningde prefecture in Fujian province, participates in farm work in 1988.
The books, published by the Party School of the Communist Party of China (CPC) Central Committee Publishing House, aim to depict the growth experience of Xi, general secretary of the CPC Central Committee.
Xi was in his 30s when he worked in Xiamen and Ningde, both in east China's Fujian Province.
"Xi Jinping in Xiamen" contains 13 pieces of interviews of Xi's former colleagues and cadres and the folks he had contact with. They recalled his time as a municipal leader after arriving in the city in June 1985.
"Xi Jinping in Ningde" contains 19 pieces of interviews to recall Xi's time in this former impoverished prefecture as its Party chief from June 1988 to April 1990.