US, China need dialogue to reduce misunderstanding: Bill Gates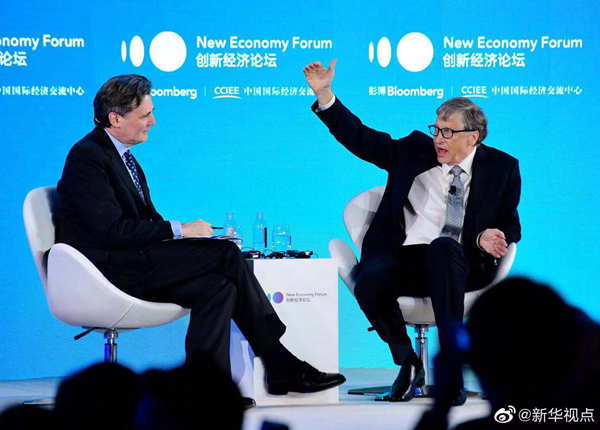 (Photo: Xinhua)
In a recent interview with China Media Group (CMG), Bill Gates, Microsoft co-founder and co-chair of the Bill & Melinda Gates Foundation, said he believes in dialogue to reduce misunderstandings in the U.S.-China relationship.
Terming U.S.-China relationship as "the most important relationship in the world," Gates said he has been disappointed over the last few years to see the escalation of tensions in trade and many other issues.
"I am very hopeful that we can find common purpose, because after all, if you take a challenge like climate change, the only way to solve that problem is to have China and the U.S. working together," he said. "It's just one example of problem, like fighting terrorism. If the two countries spent lots of resources at going after each other, then our progress on the global issues, whether it's getting rid of disease, stopping climate change or reducing terrorism, won't make much progress. So, I believe in dialogue to reduce misunderstandings," he added.
Speaking of philanthropy, Gates said it was important as it focused on problems that are not solved by the private sector. "The private sector is super important and it can solve so many problems. But problems like malaria, where people who are sick have no money, then there is no market signal. No company is encouraged to do that work, so only philanthropy can come in and encourage the scientists to work in the area because it's a big market failure," he added.
Gates also shared his secret to staying healthy: exercise. In addition, Gates also linked health with challenging oneself, learning new things, having a purpose in life and staying positive.
"I hope I can have 30 more years to work on all these diseases. In 30 years, we should be able to get rid of the majority of all these diseases, that's the big priority of our foundation," said Gates.
Gates visited Beijing on Wednesday and Thursday. Peng Liyuan, wife of Chinese President Xi Jinping and a goodwill ambassador of the World Health Organization for tuberculosis and HIV/AIDS, met Gates Thursday and they both agreed to deepen cooperation in healthcare.