Team measuring Qomolangma height to reach summit Friday
Twelve surveyors scaling the world's highest mountain are expected to reach the summit on Friday, the Ministry of Natural Resources said on Monday.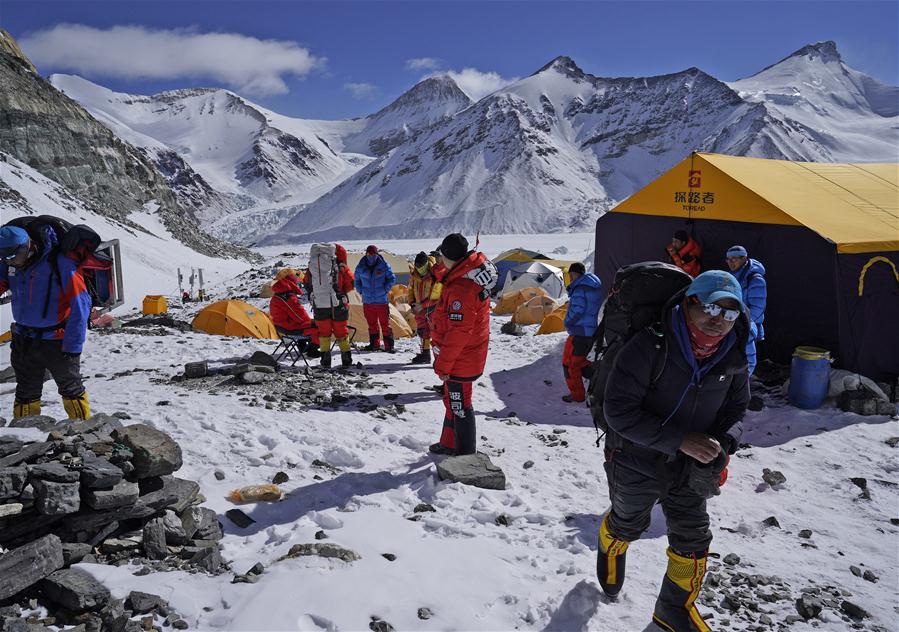 Mountain guides prepare to transport supplies to a camp at the altitude of 7,028 meters, at the advance camp of Mount Qomolangma in Southwest China's Tibet autonomous region, May 8, 2020. (Photo: Xinhua)
The ministry also revealed the names of the surveyors who will scale Mount Qomolangma to measure its height.
The climbers will be led by the head of the national mountaineering team, according to the ministry. Among them, three members, including two from the 1st Geodetic Surveying Brigade, have no previous experience climbing mountains higher than 8,000 meters.
If they feel uncomfortable after leaving the C1 camp at 7,028 meters, backup team members will take their place, according to the ministry.
Equipment for measuring the summit will be taken to the top by a special climbers' team.
China launched a campaign to measure the height of Mount Qomolangma, which is known as Mount Everest in the West, early this month.
The remeasurement of the peak's height is a part of China's latest large-scale comprehensive scientific survey of Qomolangma, and the project is jointly organized by the Ministry of Natural Resources, the Ministry of Foreign Affairs, the General Administration of Sports of China and the regional government of Southwest China's Tibet autonomous region.
The 1st Geodetic Surveying Brigade under the Ministry of Natural Resources and the China Mountaineering Team are the two parties carrying out the project.
Technical innovation and breakthroughs applied in the survey include the application of the BeiDou-3 Navigation Satellite System and advanced domestic surveying and mapping instruments.