Infections up as travel rush approaches
Transport authorities say they're ready to control spread of novel coronavirus
As the Lunar New Year holiday nears its end, the number of confirmed cases of people infected by a novel coronavirus has continued to rise rapidly on the Chinese mainland. But transportation authorities say they are prepared to cope with the large number of people who are expected to return to the cities.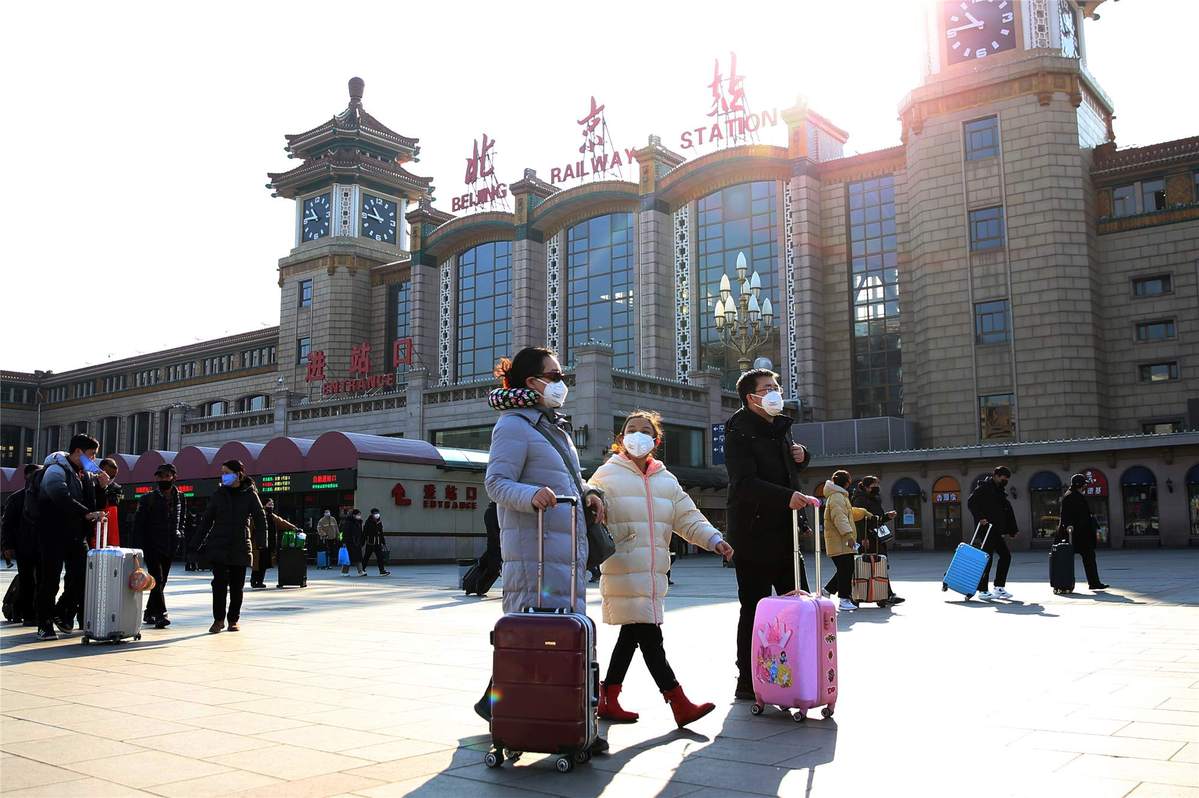 Passengers wearing face masks arrive at the Beijing Railway Station in Beijing on Jan 30, 2020. (Photo: China Daily)
As of Wednesday, confirmed mainland cases of the coronavirus had risen to 7,711, with 170 deaths, the National Health Commission said on Thursday morning.
On Wednesday, 1,737 new confirmed cases, 38 deaths and 4,148 suspected cases were reported, the commission said.
Of the total infections, 1,370 patients were in serious condition, while 124 had been cleared and released from hospitals.
The authorities have traced a total of 88,693 people who had close contact with infected people, and 2,364 of those were released from medical observation on Wednesday, the commission reported.
Confirmed infections rose to 10 in Hong Kong, seven in Macao and eight in Taiwan, it said.
Hubei province remains the hardest-hit by the outbreak. It had confirmed 4,586 cases of the novel coronavirus as of Wednesday, the provincial health commission said on Thursday morning.
The number of confirmed cases in Hubei increased by 1,032, and the death toll climbed to 162, up by 37, the commission said. By day's end on Wednesday, 90 patients had been cleared and released from hospitals, while 4,334 were hospitalized, 711 showed serious symptoms and 277 were in critical condition, it said.
In Wuhan, Hubei's capital, 356 new confirmed cases and 25 new deaths were reported on Wednesday, bringing the number of confirmed infections to 2,261 with 129 fatalities in the city.
The Tibet autonomous region reported one confirmed case of the novel coronavirus on Wednesday, the first in the region, according to local authorities. That means all provincial-level areas in China have now reported at least one case of the novel coronavirus.
Tibet activated its highest public health alert on Wednesday.
With hundreds of millions of migrant workers across the country expected to return to cities at the end of the Spring Festival holiday, road, railway and air transport authorities say they are ready to provide services to people and to prevent the spread of the coronavirus during travel.
Wu Chungeng, a spokesman for the Ministry of Transport, said at a news conference on Thursday that the ministry will take measures to limit the spread of the disease.
Transportation authorities across China will strictly carry out prevention and control measures, including proper ventilation, sterilization of vehicles, equipping body temperature facilities at long-distance bus and ferry stations and establishing quarantine areas in some highway service areas and passenger ships to accommodate passengers suspected of having the coronavirus, he said.
They will also work with health authorities to take quarantine measures as needed and trace patients' close contacts, he said.
Huang Xin, chief of passenger services at State-owned China Railway, said the company will intensify disease control measures on all trains and in railway stations, including ventilation and sterilization. Passengers will also have to undergo body temperature tests before entering and exiting railway stations, and anyone with a fever will be quarantined.
Zhu Tao, a health official at the Civil Aviation Administration of China, said the authority has maximized air circulation on all the planes and intensified sterilization to reduce the chance of the coronavirus being spread aboard aircraft. In addition, emergency medical equipment including disease prevention and control kits have been provided for all planes.
"We are confident that with these measures we can minimize the spread of the disease through airplanes," he said. "Meanwhile, we also advise passengers to wear masks whenever taking public transportation, including airplanes, to protect themselves and others."