30-year-old village official dedicated to poverty alleviation
People's Daily app
1564119691000
Huang Wenxiu , Party chief of Baini Village in Baise's Leye County, South China's Guangxi Zhuang Autonomous Region, didn't know that mountain landslide would take her life, while attempting to hurry to go back to the village where she began her career after graduation.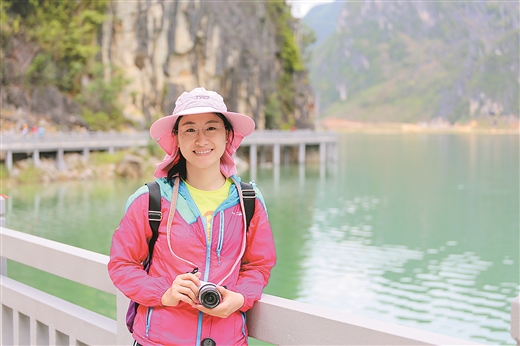 (File photo)
In the rainy season, Baise's Leye County is often prone to natural disasters such as floods and landslides. On the evening of June 16, a sudden mountain landslide inundated the road of Leye County. Huang was so concerned about the villagers that she decided to set out in the heavy rain. Considering the bad weather, Huang's father advised her to stay at home but Huang was stubborn. "I have to rush back now. The flood has struck the village."
Along the way, she kept in touch with her colleagues on the condition of the disaster and urged that attention should be paid to several key villages, and that disaster relief should be organized immediately.
Zhou Changzhan, secretary of the village Party branch, said in a choked voice: "In such a dangerous situation, she was still thinking about villagers."
(File photo)
Huang was awarded the May 1 Labor Medal for her deeds and noble spirit on July 17.
In 2016, Huang obtained a master's degree from Beijing Normal University. Instead of seeking a job in the capital city, she chose to work in Baise, her hometown, and was employed by the municipal publicity department. In 2018, she was transferred to Baini, which is in a remote area.
"When we asked her whether she was willing to work in an impoverished village for poverty relief, she did not hesitate. At that time, her father had cancer but she didn't even tell us," He Xiaoyan, an official of the municipal publicity department, recalled.
Some classmates had wondered why she persevered in returning to her hometown rather than work in the big city. "A lot of people go out from the countryside and don't want to go back, but I'm someone who looks forward to making contributions to the place where I was raised," Huang said.
However, she soon found that poverty relief was not an easy task. In order to figure out the solutions to help the poor families, she had to visit each household to learn more about them. But some villagers refused to talk and some even refused to let her in, according to a Xinhua report.
After consulting her colleagues, Huang realized that it's necessary to treat villagers as friends, see things from their perspective and look for their root cause. Huang immediately changed her work style. Instead of asking what they needed, she took off her coat and helped villagers do farm work. In order to fit in, she did not speak Mandarin but learned the dialect.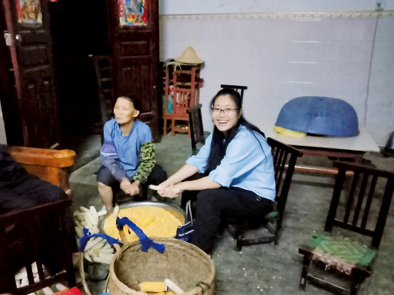 (Photo: Xinhua)
She invited experts to tell the villagers about improving production and quality and contacted customers online and offline to boost sales. During her stint, the area for growing oranges increased from 33 hectares to 133 hectares. Buyers from the nearby provinces of Yunnan and Guizhou sent trucks to the village. An e-commerce service station was also opened. The income of the poor families growing oranges increased by 2,500 yuan annually on average, China Daily Global reported.
Huang had even written in her application for party membership: "Only by incorporating personal pursuits into the Party's ideals can the ideals be more ambitious. If a person wants to live meaningfully and valuably, he or she must fully utilize his or her own strength to contribute to the country and the whole society."
Lu Yan, Huang's friend who served as the first secretary of Shangmeng Village in Baise's Leye County, said, "It was painful that Wenxiu lost her life at such a young age. Nevertheless, she stuck to her original intention and demonstrated her great loyalty to the Communist Party, so she was worthy of the title of 'Role Model'. "
"Wenxiu will inspire us to take on the cause of the Party and the people," Lu added.