Experts look to improve draft law on falling objects
Legislators and legal specialists want a draft law on objects that fall or are thrown from high-rise buildings to include more specific rules to make sure investigations can be launched quickly.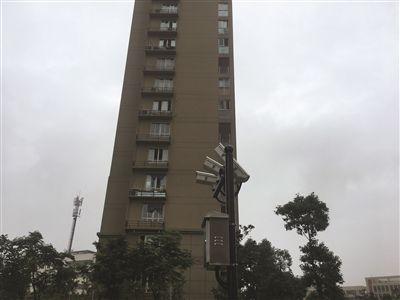 A residential community installed special surveillance cameras in Nanjing, Jiangsu province. (Photo: Sina Weibo)
Some current civil and criminal laws say people who throw objects from tall buildings should be held accountable. Public concern has been growing after a number of recent cases of passersby being hit by falling objects.
In June, a 10-year-old girl in Nanjing, Jiangsu province, was injured by objects another child threw from a building. Earlier that month, a window from a 20th-floor apartment in Shenzhen, Guangdong province, fell on the head of a 5-year-old boy on his way to kindergarten with his mother. The girl survived, but the boy died.
Chinese lawmakers are trying to solve the problem through improved legislation. At the latest bimonthly session of the Standing Committee of the National People's Congress, which ended on Aug 26, the issue was highlighted in a draft civil code law reviewed by the country's top legislature.
As well as stressing that throwing objects from high-rise buildings is prohibited and clarifying that those who throw objects should be held accountable and pay compensation to victims, the draft also orders "relevant departments" to conduct investigations in a timely manner to figure out who threw the objects.
Zhou Min, a member of the NPC Standing Committee, welcomed the prohibition, but said the draft needs to specify "who the relevant department is".
"If the department cannot be clarified, the investigation will be hard to start, let alone be able to find out who threw the objects and to protect the safety of passersby," she said.
Zhou suggested those drafting the law name public security bureaus as the relevant departments as soon as possible.
"The clearer the law, the more effective it will be in solving the problem," Zhou added.
Wang Liming, a law professor from Renmin University of China, agreed that police should play the main role in investigating cases of people being injured by falling objects "as the incident is not only a case relating to civil compensation, but also involves criminal liability for the crime of endangering public security".
Li Xiangbin, an NPC deputy, told Legal Daily: "Preventing objects falling from tall buildings requires joint efforts from all walks of life. Building management departments or property companies should help determine where the object came from, and people's legal awareness must be urgently enhanced.
"Our laws must clarify civil, administrative and criminal liabilities that the person who does the throwing will face, in accordance with how seriously victims are harmed. Otherwise, such incidents will be difficult to prevent."
Both Wang and Li called on lawmakers to make sure punishments for throwers, property companies and investigators who are derelict in their duties are clearly stated in the draft or in other laws to act as a deterrent.
Li also suggested governments or building management departments establish insurance plans or funds to pay victims before the person who threw the object is identified.
He said it would avoid hardship in situations in which the person who threw the objects was difficult or impossible to identify.
"After all, we cannot let victims pay for their loss and damages by themselves," he said.
Another article in the draft says those responsible for building management should take "security measures" to ensure construction safety. Xu Hao, a lawyer at Beijing Jingsh Law Firm, said it was necessary "as harm caused by falling objects from buildings is sometimes attributed to aging windows or walls, such as in the case in Guangdong".
But Wang Shengming, an NPC Standing Committee member, said he was concerned the article did not specify what "security measures" are.
"Some building management departments are operated by large property enterprises, but some are just private companies. Different building management departments may have different capabilities in taking security measures," he said, adding that more research is needed.
In addition to solving the problem through legislation, Ma Huaide, president of China University of Political Science and Law, said it could be alleviated by technology. He gave a Shanghai community as an example, saying it had installed cameras and intelligent systems on buildings with the aim of preventing the risks of falling objects.
The NPC Standing Committee's Legislative Affairs Commission is soliciting opinions on the draft of the civil code, aiming to improve it before implementation.
The draft will be submitted to the NPC for further review at its annual session next year. Under Chinese law, such significant legislation can only be adopted after NPC deliberation, whereas other drafts can become law after three readings by the NPC Standing Committee.