China awards fishers who netted foreign spy devices
Global Times
1579031949000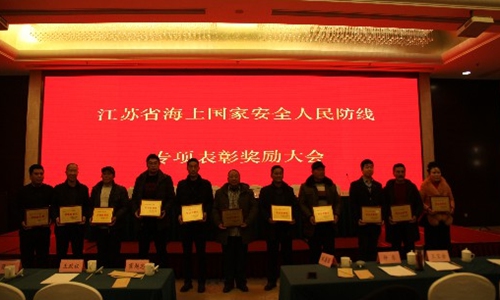 Eleven fishers from East China were given rewards on Monday by a local government of Jiangsu Province after fishing out several underwater spy devices and turning them in to national security authorities in 2019. (Photo: Screenshot from Sina Weibo)
Eleven fishers from East China were given rewards on Monday by a local government of Jiangsu Province after fishing out several underwater spy devices and turning them in to national security authorities in 2019.
National security authorities said seven devices made in other countries were found that had various espionage functions, posing a serious threat to China's national security.
Some of the devices can collect information on hydrologic characteristics of the sea and map the seabed, and others can collect data on a ship's sound print, which can be used for military purposes such as detecting submarine and ship movements and early warning detection, media reported.
The fishers who received awards at a ceremony on Monday in Jiangsu's Nantong were not identified. Some netizens said that the prizes ranged from tens of thousands of yuan to 500,000 yuan ($72,700).
"They deserve all the credit and awards, as nothing is more important than our national security," said a net user on China's Twitter-like Sina Weibo, jokingly saying he might take up fishing for living and try to snag some of the devices.
Jiangsu has been giving such awards to fishers for three consecutive years. In 2018, nine devices used for espionage were found and 18 fishers received rewards.