Ownership reform helps to enhance SOE profits in H1
Profits of State-owned enterprises increased steadily in the first half of this year, with the electricity generation, real estate and building material sectors growing faster than the average, the Ministry of Finance said on Tuesday.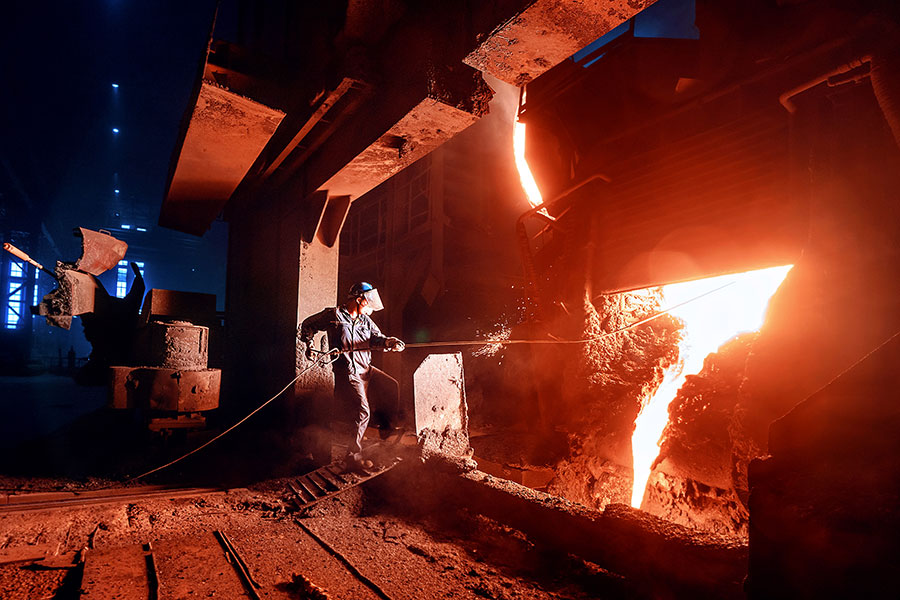 An employee works at a steel plant in Ma'anshan, Anhui province. (File photo: VCG)
The combined profits of China's SOEs amounted to 1.82 trillion yuan ($264.5 billion) in the first six months, up 7.2 percent year-on-year, the ministry said in an online statement. The growth rate slowed from the 8.7-percent increase in the first five months, the official data showed.
Between January and June, SOEs reaped a total revenue of 29.5 trillion yuan, up 7.8 percent from the previous year, data from the ministry showed.
"Mixed ownership reform has exerted a great influence. It not only helps preserve and increase the value of State-owned assets, but also improves the efficiency of SOEs," said Jiang Chao, a senior analyst with Haitong Securities Co Ltd.
Such reform has entered a new stage, Jiang said. "In competitive industries, SOEs can withdraw their equity capital, while in noncompetitive sectors, they can introduce and use social capital," he added.
Mixed ownership reform, shifting from managing the companies to managing the assets, is of great significance to adjust the economic structure and upgrade the industrial structure, Jiang said.
Data from the Ministry of Finance showed that the total assets of SOEs reached 195 trillion yuan by the end of June, up 8.9 percent year-on-year, while their liabilities went up 8.8 percent to 125.8 trillion yuan.
SOEs' debt-to-asset ratio stood at 64.5 percent as of the end of June, down 0.1 percentage point from the same period last year, according to the ministry.
Xuzhou Construction Machinery Group, the State-owned construction machinery maker, recently predicted that its net income could hit between 2.1 billion yuan and 2.4 billion yuan in the first half, an increase ranging from 90 percent to 117 percent year-on-year.
The company will complete mixed ownership reform by the end of this year, according to an earlier report. At that time, the wholly State-owned machinery giant will be transformed into a diversified firm that is dominated by State-owned capital and engaged with private investment, the report said.
The central government has been boosting SOEs' earning capability through a series of reforms, which aim to shift toward mixed-ownership and market-oriented management.
In the future, the State-owned Assets Supervision and Administration Commission will speed up the pace of implementing all reform tasks, Peng Huagang, secretary-general of the country's top State assets regulator, said at a recent news conference.
Peng said SASAC will further promote the construction of the modern State-owned enterprise system with Chinese characteristics, and improve the quality and effectiveness of mixed ownership reform.