Xi: Party officials should prepare for hardships, not leisure
People's Daily app
1563353458000
Xi Jinping has set a shining example of dedication to Communist Party of China (CPC) members in the new era with his consistent actions, a senior Party official said.
Starting from serving as a zhiqing, or educated youth, in Liangjiahe village, Yanchuan County, Northwest China's Shaanxi Province, at the age of 15, Xi has devoted himself to the Party and people for 50 years, said Ding Xuexiang, member of the Political Bureau of the CPC Central Committee, member of the Secretariat of the CPC Central Committee, and director of the General Office of the CPC Central Committee, at a recent Party lecture to promote the dedicated spirit of Party members in the new era in Beijing.
He shared several stories of Xi, General Secretary of the CPC Central Committee and Chinese President, calling on Party officials to prepare for hardships for the good of people.
One story Ding shared was why Xi chose to work in Zhengding County, Hebei Province, where Xi had worked as deputy secretary and secretary of the county's CPC committee from 1982 to 1985.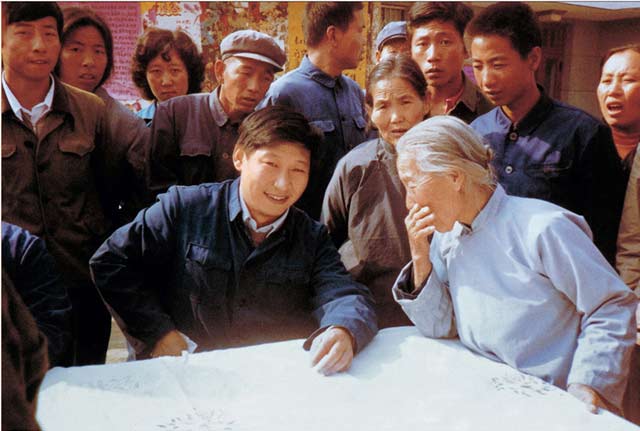 In 1983, Xi Jinping (left, front), then secretary of the Zhengding County Committee of the CPC, with villagers in Hebei Province. (File Photo: Xinhua)
Ding said he learned the story from Li Yaping, a former party committee officer of the county.
After returning to Beijing from Liangjiahe in 1975, Xi went on to study at Tsinghua University before working at the General Office of the State Council and General Office of the Central Military Commission.
At that time, his father was already freed from confinement in the chaos of the Cultural Revolution and his family members were united. Xi could have enjoyed a life of leisure. But he didn't: although the Cultural Revolution had gone, the country was still in need of rebuilding from scratch and reform, and capable people were needed to take on responsibility. Thus, he requested to go to a county.
"To think only of a comfortable life is the pursuit of mediocrity. I am prepared to suffer," Li Yaping wrote in his diary which Xi told him while working together.
Another story Ding shared was about Xi's three visits to Xiadang, a township deep in the mountains in Shouning County, Ningde, East China's Fujian Province when he was secretary of CPC Ningde Prefectural Committee from 1988 to 1990.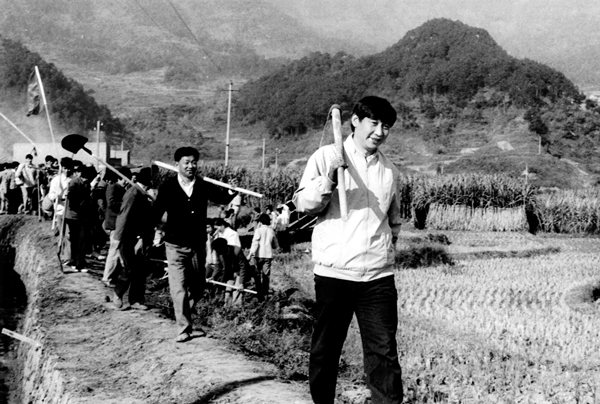 Xi Jinping, then secretary of the CPC Ningde Prefectural Committee of Fujian province, leads party cadres to take part in voluntary labour on December 2, 1989. (File Photo: Xinhua)
Due to the remoteness and poor transportation access, few officials made inspection tours to Xiadang. Xi was the first secretary of the Ningde CPC committee who had been there, Ding said.
He talked about the first time Xi went to Xiadang. On a hot day in July 1989, Xi set off at around 6 am and arrived in a car three hours later where a vehicle can reach nearest the township. With a bamboo stick in hand and a local official clearing obstacles ahead, Xi finally reached the township government office after an over two-hour trek.
Despite blistered feet, he started to work immediately after a quick wash and rest, visiting the poor families and asking about their complaints.
Xi talked about Feng Menglong (1574-1645), a writer and official of the late Ming Dynasty, when recalling his field trips. Feng was appointed the magistrate of Shouning in his 60s.
"To reach Shouning, he trekked through mountains and rivers for several months," Ding quoted Xi as saying.
"As Party officials, if all want to seek leisure, we are no better than those scholar-bureaucrats in feudal times," Xi said.
(Source: Office Administration, a monthly magazine run by the Secretariat of the General Office of the CPC Central Committee; Compiled by Huang Jingjing)