Doctor sucks old man's urine, saves his life on flight
Global Times
1574382132000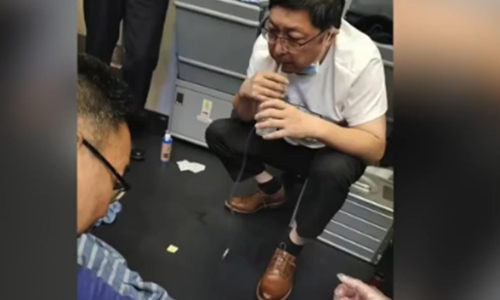 (Photo: Global Times)
A Chinese doctor shot to fame on social media on Thursday, after videos of him sucking urine out of a male patient with his mouth on a flight went viral.
A passenger in his 70s had difficulty urinating on China Southern Airlines flight CZ399, from Guangzhou to New York on November 19. Two doctors, Xiao Zhanxiang from Hainan Central Hospital and Zhang Hong from The First Affiliated Hospital of Jinan University, helped him.
Xiao made a makeshift device using a catheter, syringe needle, a straw and a tape to help the man urinate but failed. Then Zhang decided to use the catheter to suck urine out with his mouth. Zhang sucked out 800 milliliters of urine in 37 minutes.
"I did not have the tools at hand at that time, but could only use my mouth, and I had no time to hesitate," Zhang told the Guangzhou Daily.
Zhang said that he and Xiao were in New York attending the 2019 Symposium on Vascular and Endovascular Issues.
Chinese netizens praised the doctors after videos went viral on Chinese social media. The related hastag on China's Twitter-like Sina Weibo has been viewed nearly 450 million times as of Thursday afternoon.
"The doctors have most benevolent hearts!" "You are treasures of the country and pride of Guangzhou!" netizens said.