China trains agricultural production experts in Zambia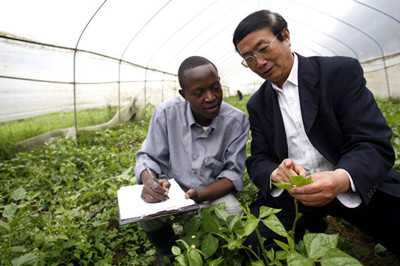 Chinese agriculture professor Wu Qinsheng (right) discusses plant worms with Omwansu Thomas Onyango, one of his students in Kenya. [Photo: China Daily]
LUSAKA, Nov. 23 (Xinhua) -- China on Friday started an overseas training program aimed at equipping Zambian agricultural experts with techniques on boosting agricultural production.
The training program, which runs from Nov. 21 to Dec. 20, has drawn participants from different parts of the country for the program supported by the Ministry of Commerce of China and Jilin Agricultural University. The first seminar was held in 2017.
Lai Bo, political counselor of the Chinese Embassy in Zambia said the favorable natural conditions for agriculture development in Zambia and China's cutting edge in capital, technology and experience makes it easy for the two countries to cooperate in the agriculture sector.
He said the participants should utilize the seminar to learn agricultural production skills diligently and apply the new knowledge to their respective districts to improve the overall capacity of agricultural production.
"With the active organization of Jilin Agricultural University, the active participation of experts from China and participants from Zambia, this seminar will play an important role in the promotion of agricultural cooperation between the two countries, improve the technical level of Zambian agricultural practitioners and agricultural development in the country," he said.
According to him, human resources training was one of the most important parts of cultural exchanges between China and Zambia.
The Chinese official added that more than 1,000 Zambian agricultural technicians have been trained by Chinese experts at the Agricultural Demonstration Center run by Jilin Agricultural University which was one of the first 14 agricultural technical demonstration centers that China has established in Africa.
Stanslaus Chisakuta, Deputy Director in Zambia's Ministry of Agriculture, said Zambia was grateful to China for its willingness to share the modern and workable agricultural technology by sponsoring the training program.
According to him, the training program was expected to play a pivotal role in Zambian agricultural sector as it will mainly focus on agricultural production.
"Enhancing agricultural productivity is a very important aspect in every form of society, regardless of different cultural norms. It is a reality that high productivity in the agricultural, fisheries and livestock will enhance the household and national food and nutrition security, increase income including forex," he said.
Michael Mulenga, Deputy Vice-Chancellor at the University of Zambia, thanked Jilin Agricultural University for facilitating the training program which was a great platform for technology transfer and exchange.
He said the contents of the course were designed to the local technological needs in the agriculture sector.