Oregon governor thanks sister province Fujian in China for 50,000 mask donation
Global Times
1588537019000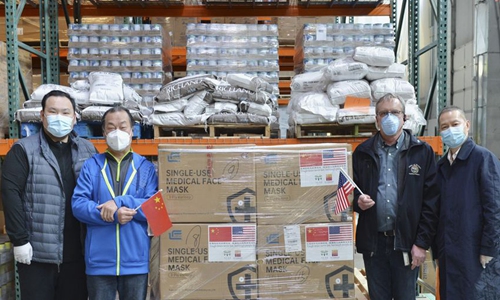 Photo taken on April 27, 2020, shows people posing for a photo with the face masks donated by China's Fujian Province in Oregon, the United States. (Photo: Xinhua)

Governor of the US state of Oregon Kate Brown on Tuesday expressed her heartfelt thanks to China for its donation of 50,000 medical face masks from Oregon's sister province Fujian.

"A heartfelt thank you to the Fujian Province, Oregon's sister state in China, for the gift of 50,000 masks. Oregon will pay it forward in the future," Brown said in a post on Facebook.

The 50,000 masks, in addition to 12,000 masks earlier provided by China's Consulate General in San Francisco, were delivered to Oregon's Office of Emergency Management (OEM) on Monday for further distribution to counties' frontline workers, the Oregon China Council (OCC) confirmed on Tuesday.

The OCC, which contributed to the delivery of the masks, is an Oregonian non-profit association dedicated to supporting economic, educational, and cultural exchanges between the state and China.

"This is the largest humanitarian assistance from Fujian to the people of Oregon since our sister relationship established in 1984. The operation was finally accomplished after more than 40 days of intense coordination," OCC President Lan Jin told Xinhua.

"With the support of the Chinese Embassy in the United States, the Consulate General in San Francisco and the Fujian Provincial People's Association for Friendship with Foreign Countries, we resolved a series of issues related to logistics, quarantine, customs. It embodies the concept of the community of shared future for mankind," Lan said.
"We are thrilled to receive this generous and critically-needed safety equipment from our friends in China. This humanitarian aid is unprecedented and truly is the culmination of many years of relationship-building," he said.

The mask deliveries reflected a 36-year relationship between Oregon and China, nurtured with annual trade missions, frequent educational and cultural exchanges between governors, legislators, and business executives alike, My Oregon News said in a report.

The donation was provided and delivered with the support of the Heren Charitable Foundation. Fujian-based Xiamen Airlines flew masks from Fujian to Los Angeles, where they were routed to a Wilsonville distribution center by truck, according to the My Oregon News report.

"This pandemic has served as an important reminder that we're all in this together," said Andrew Phelps, director of the Oregon Office of Emergency Management, adding that this generous gift "is evidence that international friendships are vital and mutually beneficial, especially in times of crisis."