Terrorism common enemy of mankind: Wang Yi tells UN Security Council
People's Daily app
1569444965000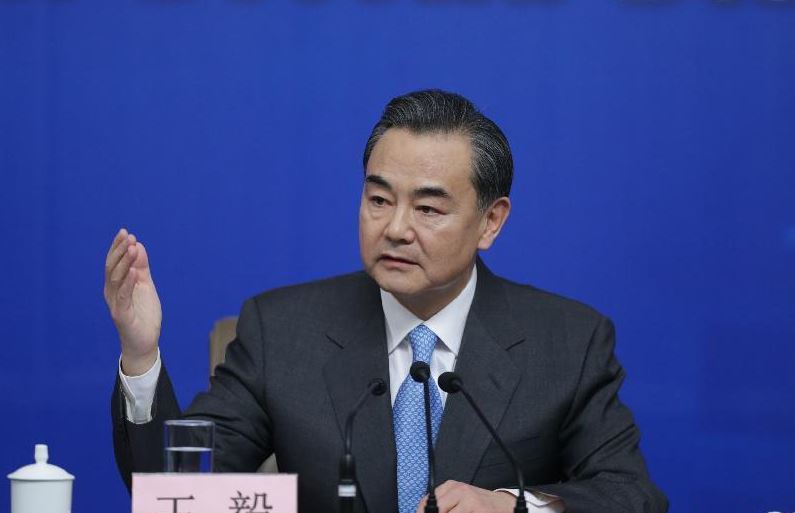 Chinese State Councilor and Foreign Minister Wang Yi. (File photo: Xinhua)
New York (People's Daily) -- Chinese State Councilor and Foreign Minister Wang Yi addressed the UN Security Council's Regional Organizations meeting Wednesday saying terrorism is a common enemy of mankind and counter-terrorism is a shared responsibility of all countries.
Wang Yi said the current international anti-terrorism situation is still severe and complicated, and the close connection between extreme thoughts and terrorism has become increasingly prominent. Therefore, international cooperation on counter-terrorism shall be strengthened rather than weakened.
All countries should develop the awareness of a community with a shared future for mankind, implement effective policies, address both the symptoms and the root causes, so as to join efforts to fight terrorism, try to solve urgent problems by political measures, and advocate mutual respect and harmonious coexistence of different civilizations and religions.
Wang Yi emphasized that in the face of a resurgence of terrorism, China believes there should be a shared standard, relentless efforts and harsh crackdown. No matter who launches terrorist activities, no matter where they happen, and no matter what the reasons are, they must be resolutely dealt with. There should not be a double standard, fighting terrorism selectively, or fighting terrorism as an excuse to seek geopolitical interests, and there should be no connecting terrorism to specific countries, nations and religions.  
Second, there should be priorities in fighting terrorism. Cyber terrorism should also be countered. The Internet should not be a "free paradise" for terrorists. It is necessary to focus on combating terrorist organizations' use of the Internet to spread extreme ideas and incite terrorist activities. 
Third, importance should be attached to terrorism prevention and eliminating root causes of terrorism. We must actively adopt de-extremization measures to deter the spread of extreme thoughts and deprive terrorism of its breeding ground. The notion of "clash of civilizations" shall be abandoned so terrorism will have no chance to spread. To solve terrorism fundamentally, we need development, especially sustainable development.
Fourth, we must strengthen cooperation and let the United Nations play the core role. The UN and the Security Council should play a central role in strengthening coordination at national, regional and global levels and actively implement the UN Global Counter-Terrorism Strategy and relevant resolutions of the Security Council. China will deepen its participation in international anti-terrorism cooperation.
Wang Yi cited the example of Xinjiang in China in preventive counter-terrorism and de-extremization. He emphasized that the government of Xinjiang Autonomous Region has taken active measures and learned from other countries' practices to promote preventive counter-terrorism and de-extremization work according to law, and effectively curb the frequent occurrence of terrorist activities, which has guaranteed the basic rights of the people and the development rights of nearly 25 million people in Xinjiang, and has been supported by Chinese people, including the people of all ethnic groups in Xinjiang.
Foreigners who have been to Xinjiang will acknowledge this is a basic fact. It has been proved that the de-extremization measures adopted by Xinjiang are effective, are useful examples of preventive counter-terrorism, are the concrete implementation of the Plan of Action to Prevent Violent Extremism, and are also a significant contribution by China to the international cause of anti-terrorism.
Wang Yi emphasized that a few Western countries like the United States, regardless of the basic facts and for their political purposes, have attacked and blackened the legitimate measures taken by China. China firmly opposes it and the international community will also not agree with them.