Feature: Mystery box mania grips young Chinese
People's Daily app
1611111990000
Zhao Shihui remembered the joy of opening her first mystery box. Inside the identical packaging was a collectable figurine.

It was Christmas Eve 2019.
Out of casual curiosity, Zhao bought the box from a vending machine at the mall. It was Juggler, the figurine she yearned for most out of the Dimoo Midnight Circus Series.
"I felt super blessed," said the 28-year-old art teacher. "The small figurine brought me much more happiness than the pricy Christmas gift from my boyfriend."
Since that day, Zhao has spent more than 30,000 yuan ($4,621) on about 600 figurines.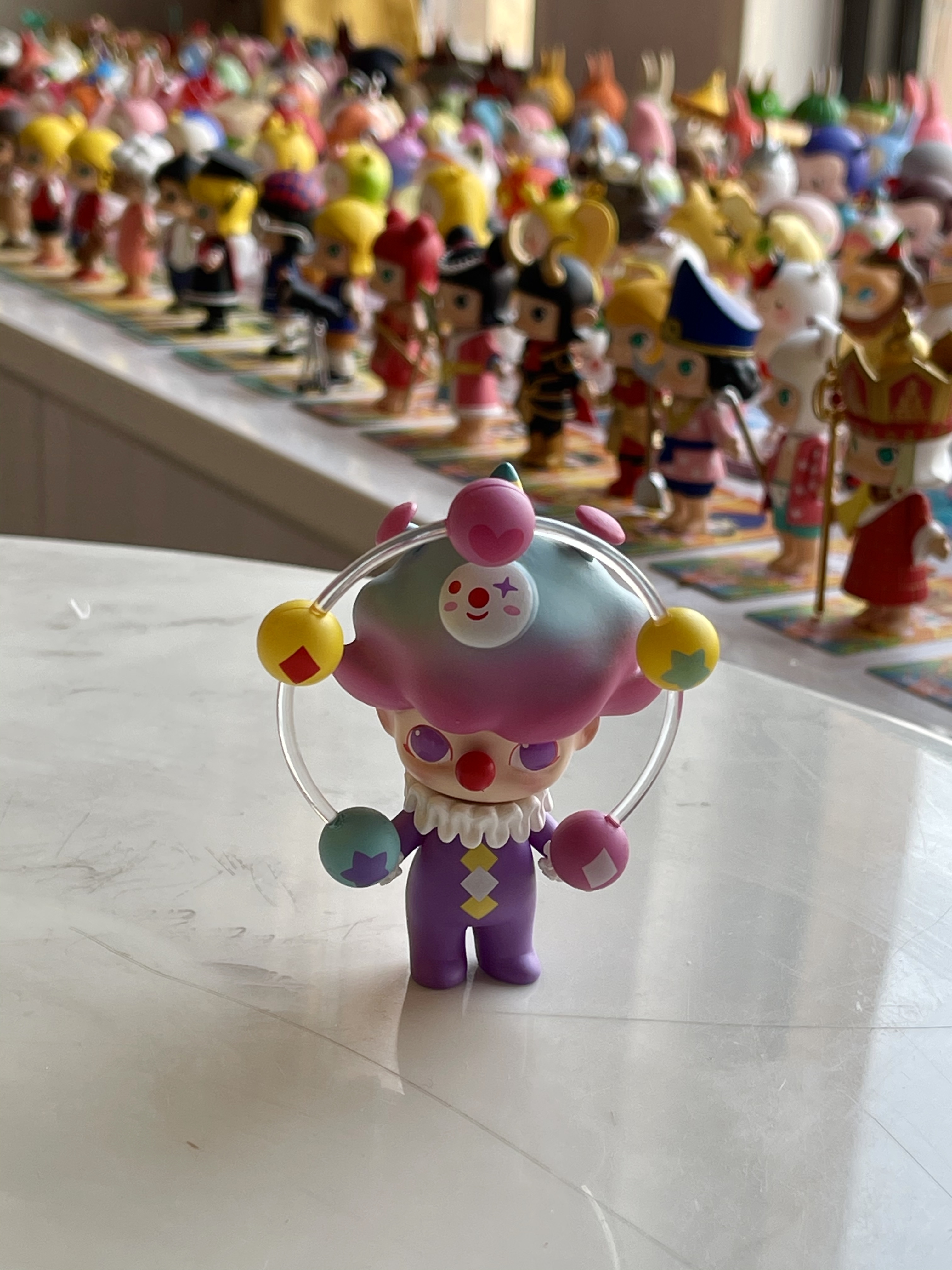 Millions of consumers like Zhao drive the successful Chinese mystery-box industry. Chinese consumers born after 1995 spend more on mystery box toys than any other hobby including designer shoes and e-sports, according to a 2019 report by e-commerce giant Alibaba's Tmall platform.
Toymaking sensation Pop Mart International Group listed in Hong Kong in December, with a market capitalization of over HK$100 billion ($12.9 billion) on its debut day. According to the company's prospectus, its revenue grew nearly 1,000 percent from 2017 to 2019, while net profits reached 451 million yuan ($69.4 million) in 2019.
The mystery-box market turnover is expected to reach over 30 billion yuan ($4.59 billion) by 2024, according to an industry report published by data intelligence technology platform MobTech.
The mystery box, also called the "blind box", contains a random-draw toy of collectable value. Customers do not know which figurine they have from a series of 13 until they open the individual box.
Pop Mart figurines sell for 59-79 yuan ($9-12) each. Each series of 13 with a brand theme includes 12 regular figurines and one rare "hidden" figurine that appears in one out of every 144 boxes.
Actually the mystery box concept is not new. Baseball cards come in US bubblegum packets and lucky bags are associated with Japanese clothes and food. Many Chinese recall the Water Margin card craze of the late 90s promoted by Little Raccoon Snack Noodle: the first collectable phenomenon of its kind on the Chinese mainland.
Craze cause
The mystery box frenzy can be partially explained through its unique sales model: uncertainty.
Buyers don't know what figurine they have bought until they unpack the box. The uncertainty drives curiosity and more importantly, a yen to buy. "To be honest, if the toys were sold in a regular way instead of within the mystery boxes, I might not desire them," Zhao said.

"Compared to products with fixed returns, those with uncertainty can bring consumers greater pleasure and the emotions can last longer," said Ding Ying, an associate professor of marketing at Renmin University of China in Beijing, studying consumer psychology and consumer behavior.
The desire to complete the series is another powerful marketing tool. "The biggest difference between mystery boxes and lucky bags is that the mystery box is in a series," Ding said, "consumers have an inherent need for closure, thus they tend to own the whole series once they get one."
The desire to collect increases repurchase rates and repurchase rates recycle the collectable craze. The repurchase rate of registered Pop Mart customers was 58 percent in 2019, according to the Pop Mart prospectus. Zhao mentioned she bought more than 20 boxes to complete her Labubu Monsters Carnival series.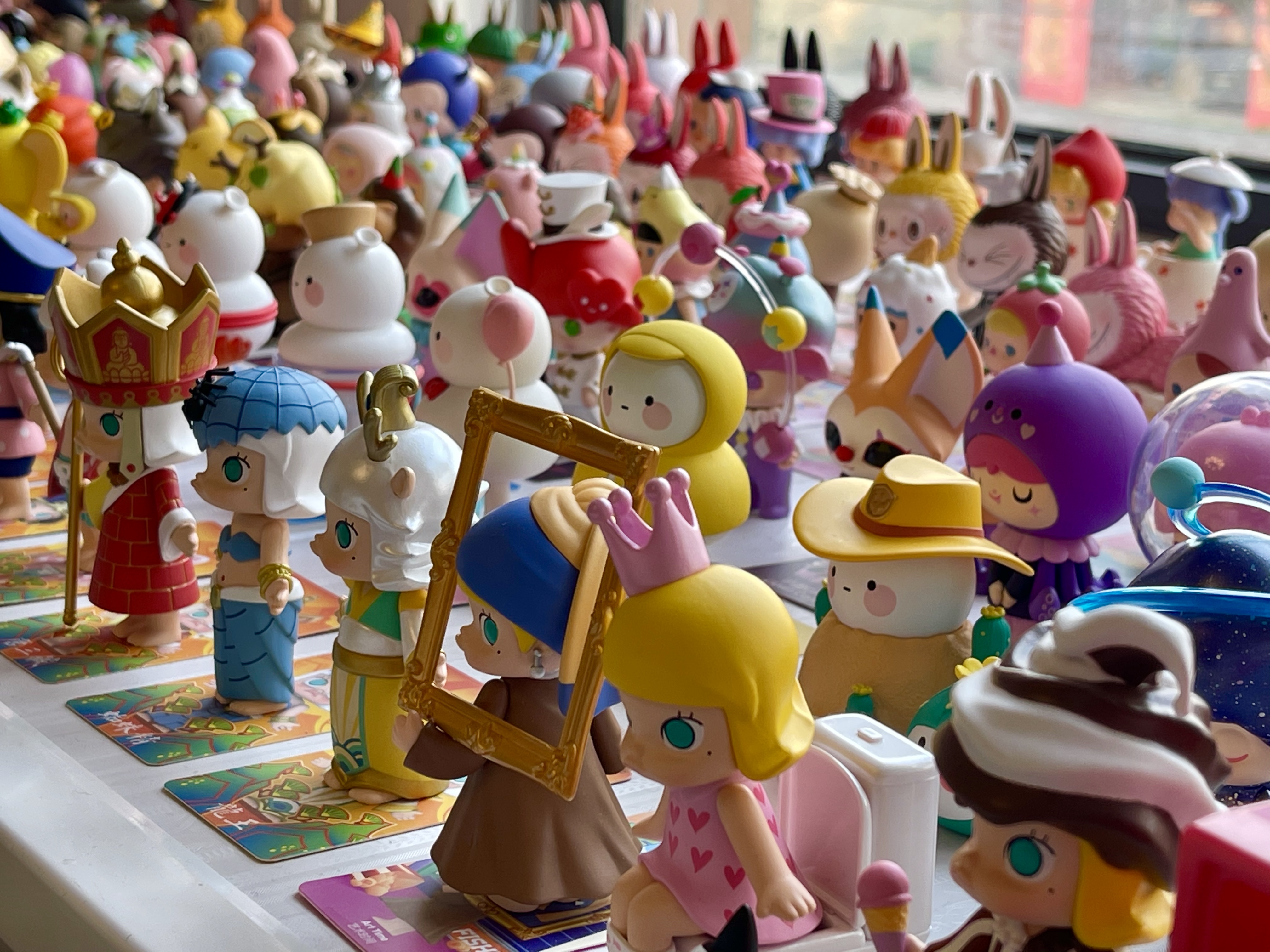 The craze capitalizes on the modern consumption mind-set of Chinese youth. "In an age where material needs are fully met, young Chinese people pay more attention to hedonic products than utilitarian products," Ding said. "It is a worthwhile activity for many consumers to spend tens of yuan on a cute doll and obtain instant happiness."
More than 70 percent of mystery-box consumers are 18-34 years old, the industry report showed. White-collar workers and college students of Generation Z – born mid-1990s to early 2010s – make up the majority of consumers. Some 62.6 percent of buyers are female.
The country's 500 million millennials and members of Generation Z differ from previous generations in acceptance of non-essential consumer goods. "They are much more willing to pay for novelty and fashion," Ding said. "Collectable buyers have a higher requirement for a high-quality life and are willing to spend disposable income on it."
Jiang Qihua, a 22-year-old graduate, works at an IT company in Shenzhen. Jiang said she bought mystery boxes whenever she was depressed. She feels an emotional connection that has informed a collection habit for four years. "Mystery boxes provide tender moments for me," Jiang said. "Life is tough but at least I can satisfy myself in this way."
Generation Z consumers have driven designer toy consumption since it took off in 2015, according to a case study report by the Peking University Guanghua school of management. As an only-child generation, they lack peer interactions and prefer to express their emotional appeals through social groups, the report authors opined.
"One of the important principles to make a product catch on is to increase its social currency, which was put forward by the famous marketing researcher Jonah Berger, meaning build social wealth up by sharing and influencing others in a positive way," Ding said. "The mystery box conforms to that principle and serves as social currency."
Online mystery box groups abound on Chinese social media platforms including Douban, Weibo, Xiaohongshu and Bilibili. Buyers share photos and videos of their collections, exchange idle toys and theorize about collecting techniques.
Some 300,000 collectors traded mystery boxes through Xianyu in one year, with a transaction volume of tens of millions, according to data released by Alibaba's well-known second-hand platform Xianyu in mid-2019.
These figurines mostly without specific expression are also an important way for young Chinese to show their personality. They identify with the perceived character and expression of a figurine.
"I like Molly, a girl with an iconic duck-lipped smirk, because she looks like me, struggling to bear the sufferings and be stronger," Zhao said. "Although there are many hardships in life, we have to face it positively. "
Industrial Prospects
Compared with established toy brands such as Lego of Denmark or Bandai of Japan, the Chinese mystery toy brands have a long ways to go.
"The key to the mystery box industry lies in the brand theme, or the intellectual property (IP)," said Professor Hu Yu, executive director of the institute of cultural and creative development at Tsinghua University in Beijing. "Sustainable development of the industry depends on attractive dolls with diversity."
Mystery boxes could attract more loyal players as long as it connects more classical IPs, said Hu. He emphasized that the industry should deploy more traditional Chinese cultural elements including classical characters.
"Born into China's developed economy, Generation Z is naturally confident of national culture," Hu said. Hu's view has been proved by the popularity of mystery boxes of the legendary Monkey King, a character of Journey to the West and Nezha, a kind of patron saint for misfits in society.
"I have bought almost all the Pop Mart figurines related to Chinese culture, including Pop Mart's series 'Journey to the West' and 'Palace Beast'," said Zhao.
In Hu's view, industry sustainability also depends on product quality. Shenzhen resident Jiang has complaints about that. "To be honest, the products themselves have obvious defects like dirty skin and an easily-broken head."
He Jiahui, a 24-year-old advertising professional, quit collecting last December. The Beijing-based young lady bought about 35 figurines in two years."I was burning through my money because the design and quality did not match the price," she said.
Lastly, the industry needs regulating, Hu noted. On the one hand, companies and its employees need to exercise self-restraint. Zhao, Jiang and He all make mention of a scandal where repackaged Pop Mart items were sold at an outlet in East China's Shandong Province, urging such incidents not happen ever.
On the other hand, regulations should target addiction, especially among minors. "It is addictive but calling it gambling is exaggerated," Ding said. "Most buyers are well-heeled adults, but when it comes to teenagers with poor self-discipline, enterprises could set some limits."
Ding suggested companies limit the maximum number for juveniles every month according to personal information connected to an online account and an offline national identity card.
"I believe the industry will have a bright future despite many challenges ahead," said Hu. "Let the mystery box craze become a kind of cultural behavior instead of simple consumption."