China expresses regrets at trigger of nuclear dispute mechanism
People's Daily app
1579079315000
China expressed regrets at the UK, France and Germany's trigger of a dispute mechanism in the nuclear deal.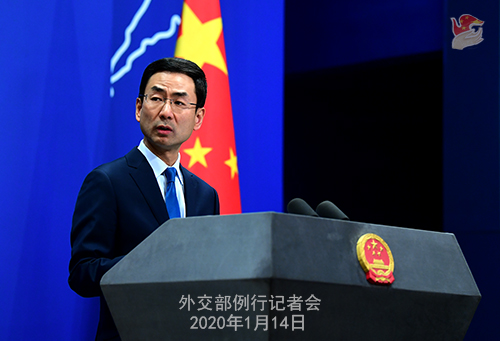 Photo: MFA
"It doesn't help ease the current tensions," Chinese foreign ministry spokesperson Geng Shuang said at a press conference. "The US' withdrawal from the 2015 nuclear deal, coupled with a series of tough sanctions against Iran, is a primary reason for the Iran nuclear crisis we are having now."
Geng called the nuclear deal an important diplomatic result achieved by five major countries and Iran. Based on international laws, the deal also serves as a critical part of what maintains the peace and stability of the Middle East.
"We hope that relevant sides can exercise restraint and settle disputes through dialogue," he said. "We need to adopt concrete measures to restore the balance between the rights and obligations outlined in the agreement."
"China will continue to work with concerning countries towards a diplomatic solution to Iran's nuclear issue and ending the tensions in the Middle East region." Geng said.