NHC lists 8 groups of people for mandatory COVID-19 tests
Global Times
1591614506000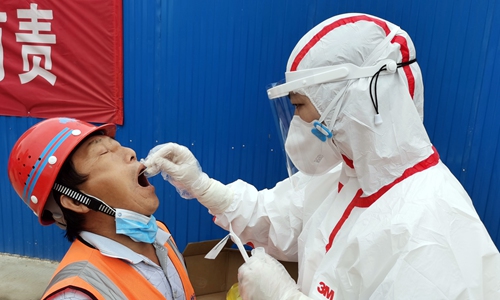 A medical worker with the Hanyang district center of disease control takes a throat swab sample for a COVID-19 nucleic acid test from a construction worker in Wuhan, Central China's Hubei Province. The tests will enhance public health security as the city resumes production. (Photo: cnsphoto)
Overseas returnees and medical workers are among the key groups that should take nucleic acid tests for COVID-19, according to a notice issued by the National Health Commission (NHC) on Monday, amid the country's efforts to increase its testing capabilities and expand testing scopes in order to consolidate the achievements made in the battle against the epidemic.
Those who have had close contact with confirmed COVID-19 cases, patients at fever clinics as well as personnel at the border epidemic inspection and control frontline are also included in the updated NHC list.
Patients newly admitted to hospitals and their companies, and staff at prison facilities as well as employees at social welfare institutions and nursing homes for senior citizens, are also among the eight groups of people who should take the tests, the notice regulated.
The notice said that people outside these categories should take tests on a voluntary basis.
It also stated that local authorities could determine which group of people to prioritize for testing based on local situations.
The NHC also called for the building of laboratories in Class-III hospitals, hospitals specializing in infectious diseases, disease control institutions above county level, as well as county level hospitals to enable them to conduct COVID-19 tests.
The cost of testing for these eight groups should be shouldered by the local governments, it said.