Crackdown on overloaded and illegal school buses
Several ministry-level departments, including those responsible for education, water resources, and banking and insurance, have recently responded to issues of public concern.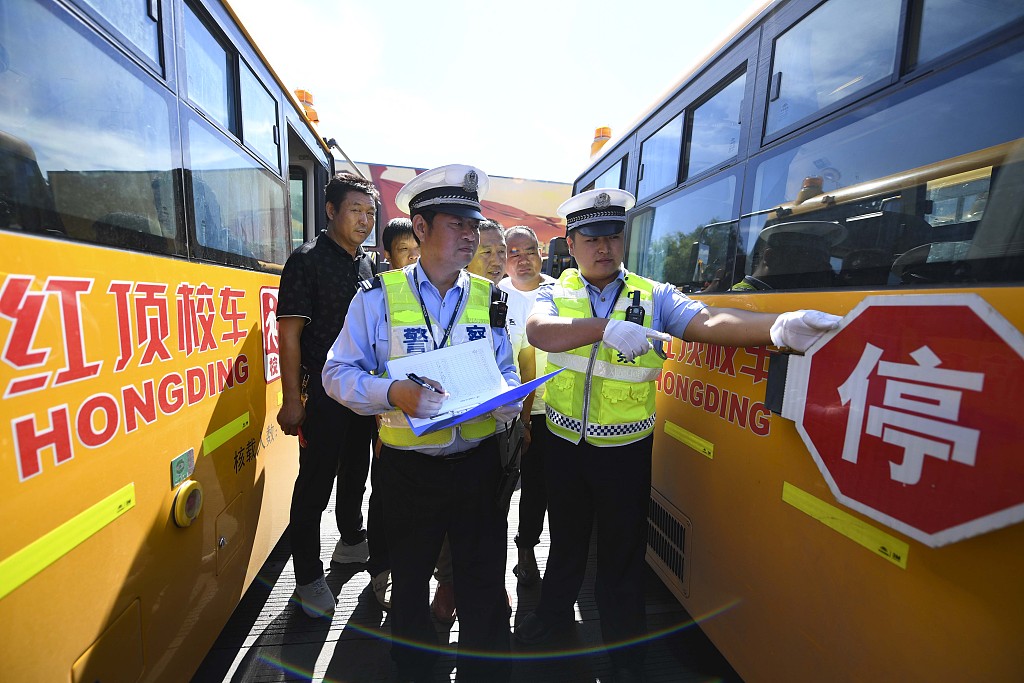 Photo: VCG
More checks to root out illegal school buses
China will mete out harsher punishment to operators of illegal school buses and those involved in related violations to guarantee the safe daily commuting of primary and middle school students and preschoolers, the Ministry of Education said in a notice released on Nov 11.
It said recent cases of overloading on illegal school buses in China had posed severe risks to the safety of students.
Local departments responsible for public security and traffic management will be required to strengthen safety checks and monitoring on key roads during rush hours, the notice said.
Road patrols around schools will also be strengthened to investigate and deal with the operation and overloading of illegal school buses and examinations of vehicles will be undertaken to reveal the potential risks of school buses, it said.
The notice also required schools to enhance the road safety awareness of students and parents so they will not use overcrowded and unregistered buses.
Regulator revises health insurance rules
The China Banking and Insurance Regulatory Commission released revised rules on the administration of health insurance on Nov 12.
The new rules, which included revisions of areas such as the definition, categorization, supervision and sale of health insurance, will take effect on Dec 1.
Medical accident insurance will be categorized as health insurance and the cooling-off period for long-term health insurance products will be extended to no less than 15 days, compared with no less than 10 days at present.
The rules also forbid insurance companies selling health insurance products from making tie-in-sales mandatory.
The CBIRC said health insurance premium income in the first three quarters this year was 567.7 billion yuan ($80.9 billion), up 31 percent year-on-year.
The health insurance market has developed rapidly in recent years and the revisions deal with emerging issues and challenges to regulation and supervision to effectively meet public demand for health security, the administration said.
Water quotas for hotels and schools detailed
The Ministry of Water Resources recently detailed water quotas for hotels, schools and administrative organs, the first time China has instituted strict, nationwide constraints on water consumption in the service industry.
Water use efficiency is expected to increase by 10 to 20 percent once the quotas are strictly implemented, the ministry said in a statement published on Nov 14.
China has a large number of hotels, schools and administrative organs that are major water consumers, it said, and the ministry had formulated water use quotas for them based on their individual characteristics.
The move will improve the standard of China's water use quotas, guide and regulate water use in hotels, schools and administrative organs, and promote water use efficiency, the statement said.
Students still obligated to finish schoolwork
Alleviating the study burden on students is not the same as eliminating it, but instead optimizing the structure of their workload to maintain it at a reasonable and moderate level, a senior Ministry of Education official said on Thursday.
Lyu Yugang told a news conference in Beijing the ministry opposed "sweeping approaches" to reducing students' burdens.
Students are obligated to finish their schoolwork as stipulated in the national curriculum program and they have to make necessary efforts in that regard, Lyu said, adding reasonable burdens were needed to develop the intelligence of students and inspire their potential.
What should be cut, he said, were the unnecessary and unreasonable burdens brought about by factors such as the overemphasis on exams, overloading of exercises and inappropriate extracurricular courses.