NPC deputies share views on how China should further advance economy
People's Daily
1590346032000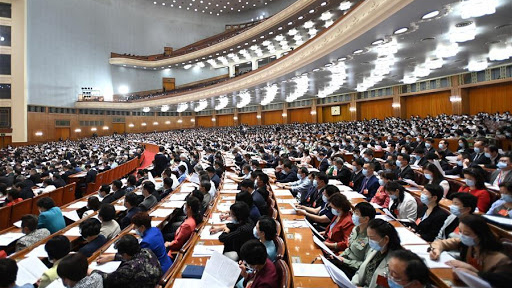 (Photo: CGTN)
Since the opening of the National People's Congress (NPC) annual session on Friday, there have been many discussions about Premier Li Keqiang's government work report, especially the decision not to set a specific growth target for China's GDP in 2020.
Several NPC deputies and Chinese People's Political Consultative Conference (CPPCC) members have expressed their views on how China's economy should move forward.
Zheng Yueming, an NPC deputy as well as the president and CEO of a high-tech company, said the tax and fee reduction announced by Premier Li will ease the burden on companies like his caused by the COVID-19 pandemic.
"For us, we always pay close attention to tax and fee reduction. The policy I was pleased to see was that companies' burden will be reduced by 2.5 trillion yuan. That's a huge number. And the value-added tax will be cut as well. Plus, the preferential policies rolled out since the outbreak will be prolonged," said Zheng. He also praised Li's remark: "When there is life, there is hope. And China will win the future."
China will continue to foster an enabling environment for the development of the private sector and ensure private businesses have equal access to production factors and policy support, according to the work report. It will also increase financial support to keep business operations stable, and large commercial banks should increase inclusive finance lending to micro and small businesses by more than 40 percent.
Meanwhile, deputies told CGTN they support the decision not to set a growth target this year. Li jian'an, a deputy dean from Central South University of Forestry and Technology, said he was impressed by how the work report put an emphasis on employment and people's livelihood.
"I think this makes a lot of sense because under the global pandemic, China should go all out to stabilize employment and create jobs. This carries more significance than setting a growth target," said the NPC deputy.
To further boost the economy, Li said China would fully advance Internet Plus initiatives across the board and would create new competitive strengths in the digital economy. That was welcomed by Zhou Hongyi, a CPPCC member as well as the chairman and CEO of Qihoo 360 Technology, a leading Internet company in China.
"I think the new infrastructure is a very farsighted and proactive strategy. Many enterprises could actively embrace digitalization, and improve their own production and supply chains, and even their own trading process by using digital technology. In five years, the new infrastructure would not just be a measure to deal with the COVID-19 pandemic, it 'may transform the business and manufacturing sectors,'" he said.