Very low risk of plagues of locusts hitting China: experts
Global Times
1581887355000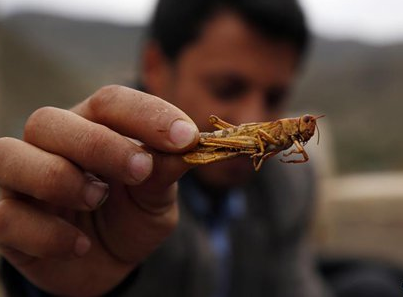 A man displays a locust for food in Sanaa, Yemen, on June 24, 2019. (Photo: Xinhua)
Chinese authorities and experts all agreed over the weekend that the risk of a plague of desert locusts hitting China was "very low" as Chinese scientists contacted their counterparts in African countries to learn about the devastating swarms on the continent that are fast becoming a global concern.

The Food and Agriculture Organization of the United Nations warned the world on February 11 of a plague of locusts leaving Africa to fly over the Red Sea into Europe and Asia, reaching Pakistan and India.

But spokespersons for China's Ministry of Agriculture and Rural Affairs reassured Chinese media on Saturday that the country had the most modern monitoring and warning systems to tackle the ravenous swarms.

China has "world-leading science and technology in locust prevention and control," the officials agreed at a press briefing on Saturday, and "adequate supplies of anti-locust devices and insecticide."

The ministry was tracking the locusts outside China and strengthening monitoring in Southwest China's Yunnan Province, Tibet Autonomous Region and other border regions to prevent an invasion, media reported.

Although India has been hit by some swarms, the authorities had met the challenge and tamed the locusts, an agricultural expert at Jawaharlal Nehru University in New Delhi, who requested anonymity, told the Global Times on Sunday.

India's agriculture ministry has even stated there will be a bumper crop this year.

Locusts in spring traditionally migrate from India through Nepal and Myanmar into Southwest China's Yunnan Province and Tibet, Zhou Li, a professor at the School of Agriculture Economics and Rural Development at Renmin University of China in Beijing, told the Global Times on Sunday.

It was difficult for locusts to cross the chilly, high-altitude border regions, Zhou noted, particularly the isolated Mount Kunlun and Himalayas.

Desert locusts have never caused a disaster in recorded Chinese history, Chinese analysts said.

But Zhou warned tiny numbers of locusts might arrive in Yunnan and Tibet brought by seasonal winds from South Asian countries. They were unlikely to harm Chinese farmers' crops, he said.

Chinese scientists have contacted scientists at the African Academy of Sciences in Nairobi, Kenya to discuss ways of working together, Kang Le, an entomologist with Beijing Institutes of Life Science, told the China Science Daily.

Chinese fungal biocides might be considered for use in Africa and other countries along the routes of the Belt and Road Initiative, Kang said.