Confirmed cases surge in Hubei due to diagnostic criteria revision
People's Daily app
1581567525000
Confirmed cases of the novel coronavirus infection (COVID-19) in Central China's Hubei province, the epicenter of the outbreak, surged on Wednesday because the diagnostic criteria has been revised to improve the treatment efficiency, the province's health commission said.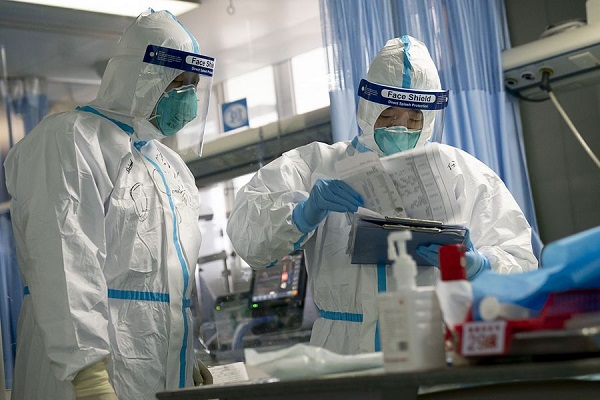 Doctors check diagnosis record of a patient. (File Photo: Xinhua)
Hubei reported 14,840 new cases of COVID-19 on Wednesday, including 13,332 clinically diagnosed cases, compared to 1,638 new cases reported on Tuesday, according to the Hubei Provincial Health Commission on Thursday morning.
The commission said it now considers patients who are clinically diagnosed as having the novel coronavirus disease as confirmed patients when releasing the figures.
Previously only patients testing positive for the virus were regarded as confirmed patients in Hubei. Whether a patient was diagnosed before was mainly based on the results of nucleic acid detection, combining with CT imaging and other symptoms such as a cough.
However, it takes more time to get results through nucleic acid detection. Some patients are highly suspected of COVID-19 according to their clinical symptoms. A revision in the diagnostic criteria is conducive to providing effective assistance to patients.
Tong Chaohui, vice-president of Beijing Chaoyang Hospital, said that revising the diagnosis criteria can help doctors give a diagnosis for the disease. They can now give a diagnosis relying on a combination of factors, such as lung images, physical conditions and epidemiological history, according to China Daily.
China has sped up the diagnosis of COVID-19 days before the data surge. China released the fifth edition of the diagnosis and treatment of COVID-19 last Tuesday.
Suspected cases should be diagnosed in a timely manner in order to proceed with more efficient treatments and prevent the disease from spreading, said the National Development and Reform Commission and the National Health Commission at a teleconference on Wednesday.
Including patients with clinical symptoms into newly confirmed cases is a realistic change, which is beneficial to the treatment of patients and the prevention and control of the epidemic, and will bring a positive impact on accelerating patient admission and speeding up epidemic prevention and control, experts said.
At the same time, we should also see that the changes in the numbers are mainly reflected in the different classifications of confirmed and suspected patients, and the total amount of data has not increased rapidly. The data will also drop quickly if the admission process is put in place.
(Compiled by Zhang Jian; with input from China Daily)